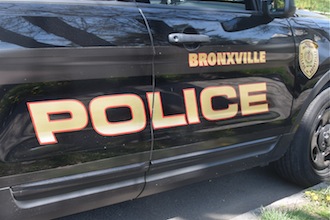 By Bronxville Police Department

May 1, 2019: The following entries are from the Bronxville police blotter.  
April 8, 2019, 11:07 am, Police Headquarters: A pedestrian found a wallet on the sidewalk and turned it over to police. The owner was contacted and it was returned. 
April 8, 2019, 7:09 pm, Pondfield Road: A resident reported that she found a purse in front of Lange's Deli and turned it over to police. Attempts to contact the owner were unsuccessful; the purse is being held for safe keeping.
April 9, 2019, 2:35 pm, Kraft Avenue: A walker with a set of keys attached to it was found unattended. The owner was contacted and the property was returned. 
April 13, 2019, 5:17 pm, Pondfield Road: Two males attempted to convince a bartender to give them a debit card that did not belong to them. The savvy cashier questioned the men, who claimed to have just made a transaction and left a card behind. The males left the area before police arrived.
April 14, 2019, 10:04 pm, Meadow Avenue: Unauthorized barricades were removed from Meadow Avenue at the intersection of Garden Avenue.
April 14, 2019:  1:49 pm, Midland Avenue: A 27-year-old woman of Yonkers was charged with the misdemeanor of suspended registration after a license plate reader alarm indicated to the officer that her registration was suspended for an insurance lapse. The woman was processed on scene and released pending her next court appearance. 
April 17, 2019, 11:14 am, Midland Gardens: A homeowner reported that an unknown number of items were missing from the storage unit in her building. The incident is being investigated. 
April 20, 2019, 8:53 pm, Garden Avenue: A large group of youths was reported causing a disturbance in the area. The group was dispersed by police. No crime was committed. 
April 26, 2019, 2:41 pm, Westchester County Jail: A 59-year-old woman was taken into custody by Bronxville detectives after she posted bail at Westchester County Jail on an unrelated charge. The woman who had an outstanding warrant from the Bronxville Justice Court was transported to Bronxville Police headquarters and charged with bail jumping. She was unable to post $2,500 bail at arraignment and was transported back to Westchester County Jail pending her next court appearance.