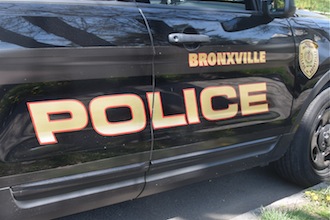 By Bronxville Police Department

Mar. 27, 2019: The following entries are from the Bronxville police blotter.
March 11, 2019, 11:16 pm, Valley Road: A parking boot was affixed to a 2018 BMW X5 rendering it immobilized because of a $375 in outstanding parking tickets. The fines were satisfied later in the day and the vehicle was released.
March 12, 2019, 9:06 pm: An order of protection was issued by the Bronxville Justice Court and detectives served it upon the defendant at his residence.
March 15, 2019, 10:47 am, Pondfield Road: A 23-year-old woman of Mount Vernon was charged with suspended registration (misdemeanor) after an on-board license plate reader indicated to the officer that the registration to the 2002 Ford Explorer she was operating was suspended because of an insurance lapse. The woman, who was also cited for no insurance and uninspected motor vehicle, was processed on scene and released pending her next court appearance. The vehicle was impounded pending proper paperwork.
March 16, 2019, 9:23 am, Tanglewylde Avenue: A bracelet was found and turned over to police. Anyone missing a bracelet should contact the Bronxville Police and provide a description and documentation.
March 17, 2019, 10:15 am, Hawthorne Road: A caller reported what the caller believed to be a sick raccoon. The animal left the area prior to the police arriving.
March 18, 2019, 4:56 pm, West Side Circle: A 66-year-old Yonkers man was issued a criminal court appearance ticket for having an open container of alcohol in public. He was not in need of medical attention and was released on scene pending his next court appearance.