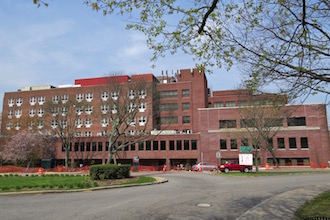 By Staff

Mar. 13, 2019:  According to Bronxville Chief of Police Christopher Satriale, at approximately 9:04 pm on Sunday, March 10, the Bronxville Police Department received a call from the nursing supervisor at NewYork-Presbyterian Lawrence Hospital indicating that she had received a call from two patients on the sixth floor who said they had seen a gentleman on the floor approaching the elevators with a shotgun. 
Bronxville Police responded along with other local police from Tuckahoe, Eastchester, and Yonkers. The police interviewed the callers and the hospital staff and conducted multiple searches of the hospital. They did not find a person in the building with a gun. Police also reviewed video footage of the sixth floor and did not see a person with a gun in the footage. No shots were fired. According to Chief Satriale, "This was not a malicious call," and the women "truly believe they saw a man with a weapon."
In recounting the events at the hospital at the Monday Bronxville Village Board of Trustees meeting, Chief Satriale said that in a situation like this where it can be chaotic and there is limited and conflicting information, the best thing to do is to "shelter in place" until you hear more news. 
Satriale also acknowledged the "tremendous response" from other local police departments and was pleased with the efforts of the Bronxville Police Department. 
Satriale and his team will be conducting a review of the incident with the staff of the hospital and will recommend safety improvements.
Pictured here: NewYork-Presbyterian Lawrence Hospital.
Photo by A. Warner