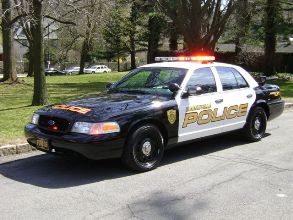 By Bronxville Police Department

Oct. 31, 2018: The following entries are from the Bronxville police blotter.
Oct. 22, 2018, 11:10 am, Kraft Avenue: A boot was affixed to a vehicle rendering it inoperable for failure to pay $430 in parking fines. The fines were satisfied later in the day and the vehicle was released to its owner.  
Oct. 25, 2018, 8:12 am, Kraft Avenue: A vehicle was entered overnight and items were stolen; the incident is being investigated.  
Oct. 25, 2018, 12:31 pm, Cedar Street: Police responded to a 911 call of a verbal dispute over a parking space. Officers were able to quell the disagreement. No crime was committed
Oct. 25, 2018, 5:29 pm, Tanglewylde Avenue: An anonymous caller reported a suspicious male walking in the neighborhood, appearing to be upset. Officers canvassed the area and were unable to substantiate the report.  
Oct. 26, 2018, 4:35 pm, CVS Pondfield: A 67-year-old woman of Yonkers was charged with Petit Larceny after stealing $42.78 in miscellaneous groceries. The woman was processed and released on her own recognizance pending her next court appearance on November 7, 2018, at 6:00 pm
Oct. 26, 2018, 5:30 pm Sagamore Road: A resident reported that both license plates had been stolen from her vehicle; the incident is being investigated.  
Oct 27, 2018, 9:40 am, Pondfield Road: A resident turned a found wallet over to police. The owner of the wallet was identified and contacted. He later came and retrieved his property.  
Oct. 27, 2018, 10:57 pm: Officers responded to a verbal dispute between family members. A domestic incident report was completed; no crime was committed. 
Oct. 29, 2018, 1:32 am, Palmer Avenue: A 26-year-old man of Mount Vernon was charged with Suspended Registration (misdemeanor) after he was stopped for inadequate tail lights. The 2017 Mitsubishi he was operating was impounded. The man was released on scene after processing and ordered to appear before the Bronxville Justice Court on November 7, 2018, at 6:00 pm.