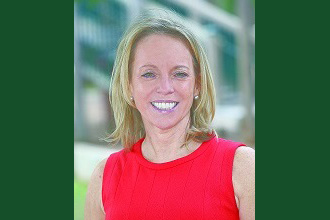 By Staff

Oct 24, 2018:  Long-time Rye resident and former Rye councilmember Julie Killian is the Republican candidate for lieutenant governor in New York. She is running with Marcus Molinaro, the Republican candidate for governor. They are running against Democratic incumbents Andrew Cuomo and Kathy Hochul in the general election on November 6.
Background
Julie Killian was born in Mount Vernon and grew up in Connecticut. The second of six children, she spent her summers in high school running a summer camp and waitressing to save for college. She went on to Notre Dame, received an MBA from NYU, and worked in the financial industry including as a Wall Street trader until the third of her five children was born.
At that time, Killian began volunteering and raising money for local causes. She was particularly concerned about drug use by young people and worked on a drug-free community grant for Rye, which resulted in education and training and "helped galvanize the community." Killian served on the Rye City Council from 2012 to 2017 and was deputy mayor for two of those years.
Why Run for Lieutenant Governor?
According to Killian, she is running because she believes there are a lot of challenges in the state and there are solutions, but we "need people who have the guts to push on the status quo."
What are the Key Issues and Solutions?
Killian thinks one of the key issues is the affordability of living and working in New York. "It's become so expensive for people to live here and do business here," she said. "Parents leave. Kids can't come back." She notes that the expense of living here or having a business here can be very stressful.
Killian's ideas include: 1) lowering property taxes by moving Medicaid costs from the county to the state level, (2) lowering construction costs by getting rid of laws like the "Scaffolding Law" that result in huge costs, (3) reducing corruption across this state, (4) creating more accountability for taxpayer dollars and (5) helping small business. 
Killian is also interested in workforce development and education. She is concerned that the state doesn't have enough skilled workers and is in favor of more vocational training and working with community colleges to train workers.
She is also against the legalization of recreational marijuana. Killian points out that it has had a very negative impact on states like Colorado, where teen usage, crime, and traffic fatalities are up.
Killian says she is coming at this "from the point of view of a citizen and mother looking for results."
Photo provided by Katherine Delgado