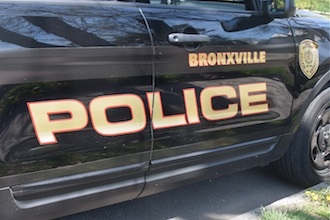 By Bronxville Police Department
Sep. 26, 2018: The entries below are selections from the Bronxville police blotter.
September 15, 5:17 pm, CVS Store/Pondfield Road: Police responded to a 911 call from an employee stating that a woman was leaving the store with stolen merchandise. On the sidewalk outside the store, officers located the woman matching the description they were provided. A 24-year-old woman from Manhattan was found to be in possession of $849.36 worth of assorted Nexium and Claritin medication. She was charged with Petit Larceny and released after posting $100 bail pending her next court appearance.
September 17, 10:09 pm, Midland Avenue: An unknown vehicle that left the scene struck an unoccupied parked vehicle. The incident is being investigated.
September 18, 9:28 pm, Lee Place: A resident reported that he was accosted by a loose dog while attempting to take his dog for a walk. The responding officer issued a village code violation to a neighbor for Dog at Large.
September 18, 11:11 pm, Paxton Avenue: A 29-year-old man of Yonkers was charged with Aggravated Unlicensed Operation of Motor Vehicle in the 3rd Degree after he was stopped for crossing a hazardous pavement marking. The man, whose license was suspended for failure to pay child support, was processed on scene and released pending his next court appearance.
September 19, 5:07 pm: Officers assisted with a verbal dispute between family members. A domestic incident report was completed; no crime was committed.