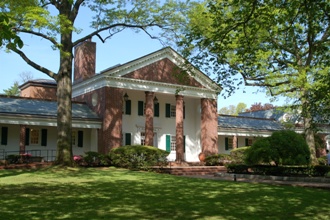 By Staff

Jun. 13, 2018:  The Bronxville Village Board of Trustees monthly meeting on Monday, June 11, included an update from Gordon Burrows, Westchester County legislator for the 15th District, which includes Yonkers and Bronxville, as well as discussions about the Village of Bronxville comprehensive plan, plastic bags, the Midland Avenue project, and a village charitable trust.   
Gordon Burrows:  Gordon Burrows provided an update on some Westchester County initiatives, including the following:
Westchester County is offering free tracking bracelets for children with autism and other developmental disabilities.

Westchester County has allocated $2.3 million to reconstruct the bridge over Palmer Road and add new sidewalks and paving. This work will be done over 18 months.

Westchester County will likely have a deficit this year. It is unclear what the impact will be on taxes.

Scout Field discussions are under way regarding balancing the needs for open space, a dog park, and a field.

Westchester County has raised the age for purchase of tobacco and vaping products to 21 years old from 18 years old.
Comprehensive Plan:  The village trustees met with the professional planning consultant hired to create an updated municipal comprehensive plan for the village and discussed the next steps on the project. As stated by Mayor Mary Marvin in a recent "From the Mayor" column, the village is revisiting Bronxville's "visions, goals, and policies as they relate to commercial vitality, residential and mixed-use development, open space, community facilities and services, and infrastructure," and this plan "will serve as a guide for evaluating proposed projects and programs and for considering amendments to Bronxville's policies, regulations, and village code itself."
Plastic Bags:  Two Bronxville High School students made a proposal to the village trustees aimed at reducing the use of plastic bags in the village. The students had done extensive research on the subject and estimated that Bronxville residents use over two million plastic bags each year. The students proposed that the village implement a 5% tax on plastic bags, which has been done in other areas of the country. They recommended a trial period followed by full implementation.
Mail Fraud:  Mayor Mary Marvin reported that as a result of the recent mail fraud in Bronxville, all the blue mailboxes have been changed and that it is "virtually impossible" to "get into these mailboxes."  She reported that there are still issues within the post office itself that are being investigated under the jurisdiction of the U.S. Postal Service.
Tax Bills:  Village Administrator Jim Palmer reported that the tax bills were mailed and are due on Monday, July 2. He urged individuals to bring them in person to village hall, if possible.
Midland Avenue Project:  Mayor Mary Marvin reported that the ongoing project to put in new gas lines under Midland Avenue is a Con Edison project, not a village project. Jim Palmer noted that the pipes are being welded and that this is time-consuming. The village has asked Con Ed to put additional welders in place to help speed up the process. When the project is completed, Con Ed will pay for repaving the north side of Midland Avenue and replacing the shrubbery.
Village Charitable Trust:  The village is scheduling a hearing on June 25 regarding creating a village charitable trust. Residents are invited to the meeting to share ideas. 
Pictured here: Bronxville Village Hall.
Photo by A. Warner