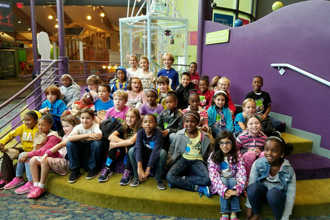 By Kim Zwisdak, Development Office, Village Lutheran Church and The Chapel School

Nov. 23, 2016:  On Friday, September 30, third-graders at The Chapel School visited Stepping Stones Museum for Children in Norwalk, Connecticut.
In addition to exploring hands-on activities in various exhibit galleries, the children enhanced their trip with a water cycle workshop. The students developed an understanding of weather by experiencing the water cycle and exploring when and where they see the steps of the water cycle in everyday life.
They experimented with evaporation and condensation and learned how water affects the world in which we live. They observed where water can be found and what forms it takes. They also organized data that they collected and analyzed a poem to review each part of the cycle. 

Pictured here:  Chapel students at Stepping Stones Museum for Children in Norwalk, Connecticut.

Photo courtesy Kim Zwisdak, Development Office, Village Lutheran Church and The Chapel School