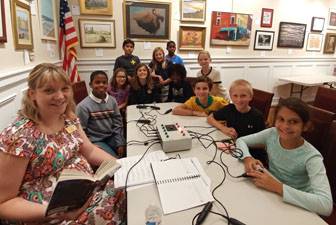 By Vivian Conan

Oct. 12, 2016:  Public libraries across Westchester are gearing up for the third annual "Battle of the Books," and Bronxville's teams are feverishly preparing.
Under the guidance of librarian-coaches Erin Schirota and Jessica Veissy, they will duke it out with other libraries' teams on October 15 at Ossining High School.
It's a cutthroat reading competition, complete with a Jeopardy-style buzzer box, where contestants answer trivia questions that test their knowledge of the five books a committee of librarians selected for their age group.
Children—Grades 4-6
Blizzard! The Storm That Changed America, by Jim Murphy
The Fourteenth Goldfish, by Jennifer L. Holm
Rules, by Cynthia Lord
Crispin: The Cross of Lead, by Avi
Gods of Manhattan, by Scott Mebus
Teens—Grades 6-10
Counting by 7s, by Holly Goldberg Sloan
Life As We Know It, by Susan Beth Pfeffer
Dead End in Norvelt, by Jack Gantos
Every Day, by David Levithan
Under a Painted Sky, by Stacey Lee
Team members received their books in the spring and were expected to read them over the summer. Meanwhile, the coaches were formulating hundreds of practice questions for each book. An example: According to Miss Volker, what lasts forever? (Answer: History. From Dead End in Norvelt.)
If the summer reading was solitary, the twice-weekly practice sessions that started immediately after Labor Day are anything but.
The first order of business was selecting team names and T-shirt designs. The ten teens decided on Bronxville Moonlights and will be wearing a black shirt with the image of a moon. The eleven younger children are the Bronxville Broomsticks. Their shirts will be maroon and gold with a broomstick drawn by one of the teens under the slogan "We'll Sweep the Competition."
Now it's drill after drill after drill. "How does Catherine distract David when their Dad is late?" coach Erin asks the Broomsticks. Hands shoot toward the buzzer box and collide in a tangle. There are shrieks and giggles, then a strategy discussion. Contest guidelines state that the answer has to be given by the person who buzzed within ten seconds.

The team decides to have a designated member who can buzz immediately even without knowing the answer, allowing them ten seconds to huddle. The practice is intense, the questions hypothetical. The actual questions are top secret, made up by librarians not affiliated with any team. For the record, the answer to the one about Dad's lateness is "counting cars," from Rules.
Coaches are not above using bribes to keep interest high. The team has to answer twenty-five questions correctly before they can attack a bag of Skittles. There are activities to build team spirit, like a scavenger hunt whose theme is Gods of Manhattan. The gods in the book, some based on real characters, like Alexander Hamilton, some fanciful, like the God of Alternate Side of the Street Parking, are hidden throughout the library, with one Dewey decimal clue leading to the next.
Both the young children and teens get questions to study at home. The teens are also required to write their own questions and grill one another.
On the big day in Ossining, teams from all over the county will do battle from 9:00 am to 3:00 pm. Each age group will be divided into brackets—like baseball leagues—two for younger children, two for teens. After a series of six intra-bracket matches—a match is twenty-five questions—two finalists will emerge in each age group, one from Bracket-A, one from Bracket-B. These preliminary contests are held in classrooms, with several going on simultaneously. There are three breaks to relieve the grueling pace: one for lunch—local businesses donate food and beverages—one for photos, and one for a brain rest.
Then come the finals, where the winner of Bracket-A plays the winner of Bracket-B in each age category. These take place in the auditorium, with the audience, predominantly other teams, coaches, and volunteers, under strict orders to remain silent. Each of the ultimate winning teams, one children, one teens, is awarded a Battle of the Books trophy that will remain on display at their library for a year, until the next Battle, when they will either re-win it or pass it on to another library.
The competition had its origin in the 1940s, with a public radio program in Chicago, The Battle of Books, hosted by Ruth Harshaw. Over the years, the idea of using trivia and games to motivate children to read spread slowly to other states. Westchester, which adopted the game recently, is unique in New York for having a competition for young children as well as teens; other library systems have Battles for teens only. In 2014, Westchester's first year, the children's winner was Bronxville's team, the Bright Broncos. Last year, the children's winner was Bedford's Brainiacs, and the teens, Briarcliff's Awfully Famous and Peculiar Legendary Necromancers (For Now).
Because fire department regulations limit the number of people permitted in the classrooms and auditorium, parents will not be able to watch in person on October 15. Exceptions are the volunteer emcees, timekeepers, scorekeepers, ushers, and greeters. But Bronxville and Eastchester had a practice match last week that parents were invited to, four rounds of twenty-five questions each. Bronxville won, though it was close. One mom said she was struck by how the kids collaborated as a team and supported each another. Another said that when her daughter picked up the five books last spring, she thought she would eventually lose interest, so she's pleasantly surprised at how enthusiastic her daughter is about coming to the practice sessions.
On October 15, parents and interested parties can follow the live score at https://westchesterbattleofthebooks.com/scores. Subsequently, pictures will be on the Westchester Library System's Battle of the Books Facebook page: https://www.facebook.com/WLSBattleofthebooks/.
Reading as an edge-of-your-seat team sport? You bet.
Pictured here:  Student contestants for Battle of the Books.

Photo courtesy Vivian Conan