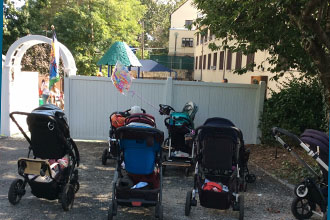 By Daisy Neumar, Board Member, Reformed Church Nursery School

Oct. 5, 2016:  The Reformed Church Nursery School (RCNS) kicked off the school year with exciting outreach events to welcome both new and current families to RCNS. 
The New Family Gathering event took place on a beautiful September 12 morning on the playground beside the school. Many incoming families attended the event, with children ranging from 18 months to five years old.  The event, hosted by the Parent Outreach chairs and the RCNS board, was a great opportunity for new families to meet one another and become acquainted with the school.
On September 17, RCNS held its first Playground Playdate, hosted by director Margaret Murtagh and the RCNS board. The Saturday morning gathering, which included light refreshments, had a great turnout of both new and current families and was a great activity to begin the weekend.
Lastly, the annual Back-to-School Cocktail Party was held at the Bronxville Field Club on the evening of September 23. The event was attended by the RCNS board, teachers, and new and old families, and included hors d'oeuvres, cocktails, and a raffle. The party, attended by nearly 230 people, made for a memorable night that embodies the spirit of our beloved RCNS community.
Pictured here:  Parked strollers at the Reformed Church Nursery School.

Photo courtesy Daisy Neumar, Board Member, Reformed Church Nursery School