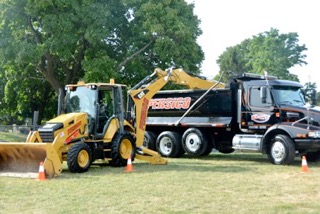 By Deirdre Doheny, Communications VP, Junior League of Bronxville

Oct. 5, 2016: Children will be able to climb aboard everything from a fire truck to construction vehicles at the Junior League of Bronxville's Seventh Annual Touch-A-Truck fundraiser. This year's event will return to the Immaculate Conception Field, 53 Winter Hill Road in Tuckahoe, on Saturday, October 8, from 10:00 am to 2:00 pm (rain or shine). 
Families will enjoy a day of hands-on play while helping community members who struggle with hunger.  Tickets are $8 per person in advance and $10 per person on the day of the event, with packages available for families of five or more. Children under the age of one attend for free. Advance tickets may be purchased at www.jlbronxville.org.
Guests are also asked to bring one item of canned goods to the event. "Eastchester Community Action Partnership (ECAP) is honored to be the recipient of the 2016 Touch-A-Truck canned food drive," stated Don Brown, ECAP's director. Mr. Brown shared that "ECAP provides vital services to those in need, including after-school programs, a food pantry, and gently used clothing and furniture, just to name a few.  In 2015 we served almost 9,000 individuals thanks to the support of the community and organizations like the Junior League of Bronxville." 
This year PERSICO, a "Harvester of Hope" sponsor of the Junior League of Bronxville, will return as the marquis exhibitor providing vehicles, attractions, and power for the event.
Additional exhibitors include a helicopter (Westchester County Police Aviation), a fire truck (Eastchester Fire Department), and an ambulance (Eastchester Volunteer Ambulance Corps). The Roaming Railroad's "Trackless Train" will once again be at the event providing rides for $3 per person.
"The Junior League of Bronxville is thrilled to continue its tradition of hosting a family-friendly event that allows it to shine a light on our vision of Stamping Out Hunger in Southern Westchester," said Mitzi Ambrose-Washington, president. "We are truly appreciative of the support of the community, our sponsors, and our members, who make this day possible."
To see additional details, including the most recent list of exhibitors and vendors, please visit www.jlbronxville.org. All exhibitors and vendors are subject to change. 
Proceeds from this event will support JLB's mission to fight hunger and promote proper nutrition within its service area of Bronxville, Eastchester, Mount Vernon, Tuckahoe, and Yonkers. 
The Junior League of Bronxville, Inc. is an organization of women committed to promoting voluntarism, developing the potential of women and improving the community through the effective action and leadership of trained volunteers. For more information on the JLB, please visit www.jlbronxville.org.

Pictured here:  A truck to be climbed at the Touch-a-Truck event.

Photo by Michelle Schoulder