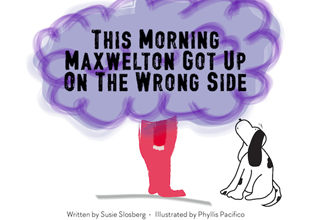 By Susie Slosberg

Sep. 28, 2016:  Two local artists, Susie Slosberg and Phyllis Pacifico, have created a picture book that demystifies idioms and explores the subject of depression in a nonthreatening way children understand and teachers find helpful in introducing "the grouchy issue."
This Morning Maxwelton Got Up on the Wrong Side is about a boy who spends the day in a blue mood until his friends bring him out of it with laughter.
Writer Susie Slosberg from Bronxville and illustrator Phyllis Pacifico-Cohen of Bedford Hills met as classmates in seventh grade in New Rochelle, where both grew up. As lifelong friends, they have shared many experiences and talked often about producing a book together. This past June, it happened with their combined talents and the guidance of Ted Slosberg, MD, who nurtured the process.
Initially geared to readers ages 5-8, some parents and grandparents have read it to children as young as four. Each child takes away something, even if younger readers focus on the whimsical drawings of shoelaces with faces instead of the more elevated scenario older readers understand.
Margaret Cerrone, a teacher's aide for Bronxville High School's life skills class, said, "It's a cleverly written and cheerful story with fun artwork that any kid [even big ones] can relate to at some point. We all have those 'bad days.'"
Michelyn Goodin, Yonkers elementary school teacher, said, "It can be used in most grades to help younger kids understand it is not always beneficial to be in a grouchy mood and also to create a discussion with older kids."
The illustrations are like contemporary watercolors. The story has a poignant friendship-and-laughter-are-the-best-medicine theme with spare text.
Phyllis, who raised three children, said, "Maxwelton is an entertaining vehicle that introduces children to idioms, and on a deeper level, opens the conversation surrounding moods."
She has read it to classrooms in the city, where kids of all ages and teachers of several grade levels responded well, including students with Asperger's syndrome. The in-class readings inspired assignments in which students made their own Maxwelton drawings and speculated as to why Maxwelton was in a blue mood.
Susan Novich, an artist and illustrator of children's picture books based in Providence, Rhode Island, said, "A well-crafted story that touches on down days with a sensitive touch of humor, This Morning Maxwelton  Got up on the Wrong Side is the perfect tool to have on your shelf for just that occasion."
This Morning Maxwelton Got Up on the Wrong Side is the first in a planned series. Susie, a writer who has worked in public relations, is owner of PinkChairPrints, a photo prints business. She wrote a fire-prevention video (Don't Play Games With Fanny Flame), which won a Bronze Apple award and is shown annually in New York schools during Fire Prevention Week. Phyllis specializes in advertising and design as an art supervisor.
The book, published by CreateSpace this summer, is available in Womrath Bookshop as well as online.
Pictured here: Cover of This Morning Maxwelton Got Up on the Wrong Side.

Photo by Sara Julianne Cohen