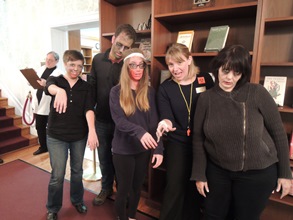 By Bronxville Public Library

Sep. 21, 2016:  The Bronxville Public Library will be hosting its third annual Zombie Night on Saturday, October 1, at 7:00 pm.
Do you think you can survive? The library will be closed, the lights will be off, and the zombie librarians will be out to get you.
Join in on the fun with a group of friends or join a group at the library for this live interactive zombie night and collect as many survival items you can.
The team that can dodge the zombies the best and collect the most survival items will win a prize! The event is for children in sixth grade and up.
For more information and to sign up, visit us online at www.bronxvillelibrary.org/lets/attend.

Pictured here:  Zombies in the Bronxville Public Library in 2014. 

Photo courtesy the Bronxville Public Library