| | |
| --- | --- |
| Womrath Bookshop Sponsors 'Where's Waldo Scavenger Hunt' during July with Twenty Other Bronxville Merchants | |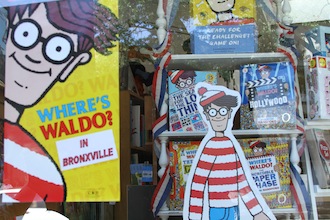 July 11, 2012:  Twenty-five years have passed since Where's Waldo was published, delighting young kids everywhere as they searched for the missing distinctly dressed man and usually found him on the pages of the now-famous book by illustrator Martin Handford.

To celebrate this landmark, Womrath Bookshop and 20 other Bronxville merchants are having a "Where's Waldo" scavenger hunt.  Kids can sign up at Womrath Bookshop and the Bronxville Public Library children's room any day in July except Sundays.

They will be given a sheet listing the 20 businesses in Bronxville and sent off to find Waldo in these participating stories.  When they find Waldo, they will be given a card that states they found Waldo from that store.

If they collect eight different cards, they can turn them in to the bookstore for a Waldo button (first 100), and if they continue and collect 16 of the 20 cards, they are eligible for a drawing to win a six-book deluxe set of the Waldo books and other great prizes.
On July 31st at 3pm, there will be a grand celebration at Womrath's and the prize drawings will take place.

For more information please call Gene Sgarlata, owner of Womrath Bookshop, at 914-337-0199.

Photo by N. Bower