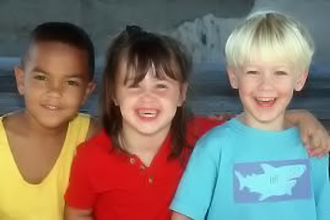 June 8, 2011:  On Sunday, June 19, The Child Development Institute (CDI) at Sarah Lawrence College and Groundwork Hudson Valley will host a Father's Day "Pop-Up Adventure Playground" for children (ages two and up) to create their own play adventures as they manipulate loose play parts, including cardboard boxes, wood, tires, and fabric.
The pop-up adventure playground, which will be held from noon to 4:00 pm at Sullivan Oval Park and Playground on Spruce Street next to School 23 in Yonkers, is dedicated solely to children's play, with trained play-workers, participants in CDI's Facilitating Play Program, on-site to help inspire and enable unstructured free play.
Barbara Schecter and Margery Franklin of CDI commented: "Opportunities for free play are essential for children to develop initiative, problem-solving strategies, imagination and creative thinking. Pop-up adventure playgrounds offer a stimulating play environment by providing the space and materials for exploration, movement, and innovation.  Parents and other adults will learn a great deal about children and their play from standing at the sidelines and observing what goes on."
For additional information regarding the playground, please contact Anais Murphy at 914-395-2630.
Editor's Note:  Groundwork Hudson Valley is a non-profit organization located in Yonkers whose mission is to foster and awaken the potential of Yonkers neighborhoods by working with the community to improve the physical environment. The Child Development Institute at Sarah Lawrence College was established in 1987 to develop programs for early childhood and elementary school teachers, administrators, child development professionals, parents, and the community.