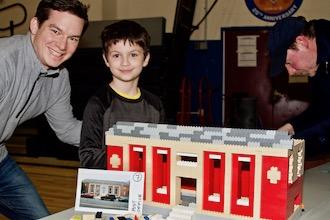 By Suzanne Davis, Member, Board of Directors, The Bronxville Historical Conservancy

Jan. 23, 2019:  Dozens of budding architects crowded into the Bronxville School gym on Sunday, January 13 for the second annual workshop, "Building Bronxville Brick By Brick." Designed to spark interest in Bronxville's rich architectural heritage, third through sixth graders and their families created models of village buildings out of LEGO blocks. The structures were then placed on a massive map of Bronxville on the gym floor, where they were admired and photographed.
CLICK HERE to see pictures from the event.
"Building with LEGOs really helped me connect with the village," said Hailey Gonzalez, who attended the unique learning event with her son Julian.
"You have a goldmine of architectural treasures in Bronxville," said architect Stephen Schwartz, the founder and creator of "Building Blocks Workshop." Last year, Schwartz in partnership with the Bronxville Historical Conservancy (BHC) identified more than 50 significant local buildings for each team of builders to recreate. The program was so popular that the BHC decided to sponsor it again this year and will likely make it an annual event.
The Bronxville Women's Club, 33 Avon Road and Village Hall were among the many buildings chosen for construction. Eight-year-old Tommy Hein said he picked the Bronxville Post Office because "it's a commonplace in Pokemon Go." Sixth-grader Thomas Henningson said he opted for the Reformed Church because he thought it would be "easy" to build.
Throughout the two-hour workshop, students and their parents scurried back and forth between work tables and large bins of multi-colored LEGOs. "I found myself getting into it as much as my kids. A little too much," joked Jeannie Kedas, who built the Pump House with her sons, Dimitri and Niko.
BHC Board member Jim Hudson organized the program for the Conservancy after Lorraine Shanley brought it to the board's attention. Hudson took most of the photographs that helped the students recreate the buildings. BHC Co-Founder Marilynn Hill and Board member Ellen de Saint Phalle recorded the architectural details for each structure. Board member Nancy Vittorini designed all of the promotional materials, and Village Historian Ray Geselbracht contributed information from the library's history center. Other BHC LEGO committee members included Michelle McBride and Suzanne Davis.
Upon completion of the workshop, each participant received a printed guided walking tour of the village and encouraged to embark on a Bronxville architectural treasure hunt.
Photo above and photos in link by N. Bower
Editor's note
: As a public service, MyhometownBronxville publishes articles from local institutions, officeholders, and individuals. MyhometownBronxville does not fact-check statements therein, and any opinions expressed therein do not necessarily reflect the thinking of its staff.