| | |
| --- | --- |
| Eliza Corwin Frost Junior K Curriculum Includes Visits to Local Attractions | |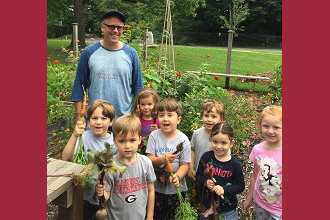 By Staff

Nov. 21, 2018:  The Junior K class (five-year-olds) at the Eliza Corwin Frost Child Center has been visiting many local village entities. 
The class visited the village's Giving Garden and helped Farmer Dave harvest green beans and radishes. The class also visited the post office and Womrath Books.
"These visits give the children a sense of independence and also incorporate math, language arts, and social studies," said Krista Hershberg, the Junior K teacher who created the curriculum. "These visits constitute a large component of the Junior K curriculum this year."  
Photo courtesy Eliza Corwin Frost Child Center