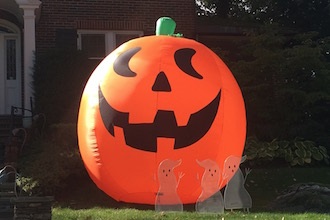 By Staff

Oct. 24, 2018: It's that time of year again when Bronxville celebrates Halloween in style. Here are some fun upcoming events in Bronxville.
Thursday, October 25, 4:00 to 5:00 pm, Halloween Storytime and Pumpkin Decorating at the Bronxville Public Library.
Friday, October 26, 3:00 to 6:00 pm, Makeover at Fabio Hair Studio. Fabio Hair Studio at 137 Parkway Road is having its Spooky Makeover Event. It will be offering kids' hair and makeup for $5.00. There will also be fun Halloween games for a chance to win prizes. For more information and to make an appointment, call 914-337-1482.
Friday, October 26, 4:00 pm, Bronxville Halloween Parade. Bronxville's annual Halloween parade will start at the Bronxville High School flagpole on Pondfield Road.
Friday, October 26, 6:30 to 7:30 pm, Annual Zombie Night at the Bronxville Library. The library has been taken over by zombie librarians and you must do your best to survive. Grab your team and find all the supplies you can in order to get the most points and win. The event is for ages 10 and up, and registration is required. Space is limited to twenty.
. The Reformed Church Nursery School will hold its annual Harvest Moon Fall Festival, an event for the whole family.
Wednesday, October 31, 4:00 pm to 5:00 pm, Halloween Organ Spooktacular at The Reformed Church of Bronxville. This event will feature assistant organist Helga Bartus on the church's organ. Bartus will perform a short organ concert featuring a spooky selection of well-known organ music such as Toccata and Fugue by Bach and other spooky favorites. A special treat will feature the Cathedral Choir and ballet students of Anna Dimas from Bronxville Ballet. The concert will be played on the church's four-manual organ with over 4,000 pipes. This event is free and open to all ages. Come in costume and enjoy this festive music before or after trick-or-treating. A reception will follow the performance. For more information, call 914-337-6776.
Wednesday, October 31: Enjoy trick-or-treating! Have a great Halloween!
Photo by A. Warner