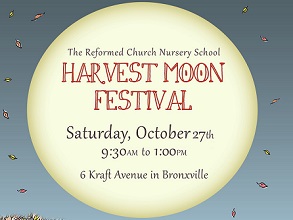 By Eleyna Whittingham

Oct. 24, 2018:  The Reformed Church Nursery School's Annual Harvest Moon Festival will be held on Saturday, October 27. Every year, families from the Reformed Church Nursery School and the local community come together for a fun-filled day to celebrate the fall season. 
This event includes both outdoor and indoor activities for nursery school-aged children, raffles, games, food, and a silent auction. The incredible efforts and talents of the RCNS parents make the Harvest Moon Festival possible, and all of the funds that are raised support the activities of the nursery school.
Featured attractions include pony rides, a petting zoo, a face painter, a balloon artist, an auction, a raffle, games, crafts, and food.
The event will take place on Saturday, October 27, from 9:30 am to 1:00 pm in congregational hall (located on Kraft and Midland) at 6 Kraft Avenue.
All-inclusive tickets (which include a snack, lunch, a pony ride, and all children's activities) are available in advance for $40 (accompanying adults and children under 12 months are free).  
For advance purchases, email  CLOAKING or go to the RCNS front office.
Editor's note: As a public service, MyhometownBronxville publishes articles from local institutions, officeholders, and individuals. MyhometownBronxville does not fact-check statements therein, and any opinions expressed therein do not necessarily reflect the thinking of its staff.