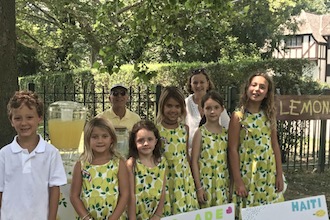 Staff

Jul. 25, 2018:  On Saturday, July 14, grandchildren of Bronxville residents Jerry and Patricia Crisci raised $783 from the sale of lemonade, chocolate chip cookies, and coconut cupcakes at a stand in Bronxville for the Haiti Nursing Foundation. The grandchildren helped to make the items they were selling.
This year marked the seventh year that the Crisci grandchildren have run a stand to raise money for the foundation. In the first year, they raised $68.  

Pictured here:  Members of the Crisci family at their stand in Bronxville: Jerry and Patti Crisci in the back; grandchildren in the front are (L to R) Friedrich Harris, Sky Dana, Jane Crisci, Luna Dana, Lucia Meyercord, and Charlotte Harris.
Photo courtesy the Crisci family
Editor's note: As a public service, MyhometownBronxville publishes articles from local institutions, officeholders, and individuals. MyhometownBronxville does not fact-check statements therein, and any opinions expressed therein do not necessarily reflect the thinking of its staff.