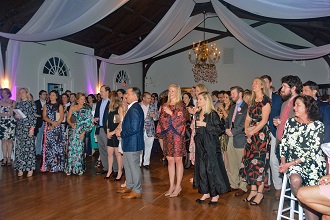 By Tara Hansen, Member, Parent Board, Reformed Church Nursery School

May 30, 2018: On May 12, The Reformed Church Nursery School ("RCNS") held its annual spring fundraiser, Springtime in New York. The event was enjoyed by parents and teachers and was held at the Bronxville Field Club. It began with cocktails and hors d'oeuvres and was followed by a live auction, dinner, and a silent auction. Included in the auction items were beautiful pieces of artwork by the children.
The evening was the most successful fundraising event in RCNS history, thanks to the generosity and commitment of the school's parents. These funds will be used to enhance the school's security system, to fund school upgrades, to provide continuing education of our teachers, and to continue to provide access to the many special nature and musical programs that enhance the cultural and learning experience of the little ones.
The RCNS Parent Board is especially grateful to the community sponsors, the Bronxville Field Club, Kensington Paper, and Mrs. Morgan's Flower Shop.
Photos of the event were taken by Michelle Schoulder and Kalil Salkey and can be viewed at RCNS Photos
All of their creativity and commitment ensured a flawless event for the RCNS community.
Pictured here: Springtime in New York fundraiser.
Photos by Michelle Schoulder and Kalil Salkey
Editor's note: As a public service, MyhometownBronxville publishes press releases, statements, and articles from local institutions, officeholders, candidates, and individuals. MyhometownBronxville does not fact-check statements therein, and any opinions expressed therein do not necessarily reflect the thinking of its staff.