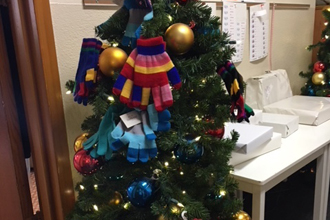 By Tara R. Hansen, Parent, Reformed Church Nursery School

Dec. 13, 2017:   As a way of honoring the giving spirit, the children of the Reformed Church Nursery School ("RCNS") are participating in several services and donation drives that help educate them, even at a young age, about the importance of giving back to the community.  
During a special chapel service prior to Thanksgiving, each child brought non-perishable food to be distributed to Westhab, which is the leading not-for-profit provider of housing and social services for homeless and low-income families in Westchester County. The chapel service celebrated the importance of being thankful and concluded with the children placing the food in the donation baskets. Through the generous donations of the families, 100 baskets of food, each a complete Thanksgiving dinner, were donated to local families in need.
In the weeks leading up to Christmas break, RCNS organized other donation drives in which the nursery school children bring in gifts wrapped in white paper as well as pairs of mittens for less-fortunate children to receive for Christmas. The donation table and the mitten garland tree, located by the entrance of the school, are nice reminders to give back to those in need during the holiday season. The beautiful white gifts, distributed by the Mission Council of The Reformed Church, will go to various local organizations for children in need. The warm mittens will be donated to the Nodine Hill Project of Yonkers.
RCNS also gave 10 flocks of chicks for each family in the school to families who do not have enough to eat. These Christmas gifts were donated through Heifer International, whose mission is "to work with communities to end world hunger and poverty and to care for the Earth." These gifts allow the RCNS community to make a difference to communities with a "long history of poverty."
In the midst of all of the busy holiday shopping and social activities, even the youngest of school children are able to experience giving back and feeling good about doing something for someone else — knowledge they will hopefully take with them for years to come.     

Pictured here:  The mitten tree where pairs of mittens are hung for less-fortunate children.  

Photos courtesy Tara R. Hansen