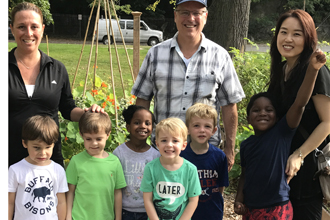 By Katie Gojkovich, Executive Director, Christ Church Bronxville

Oct. 4, 2017:  Eliza Corwin Frost's Jr. Kindergarten class took a class trip to the Bronxville Community Garden last week. Dave Phillips gave the children a guided tour of the garden.
Farmer Dave, as the children call him, had the children tasting peppery arugula, tomatoes, and nasturtium. The children were very adventurous tasters.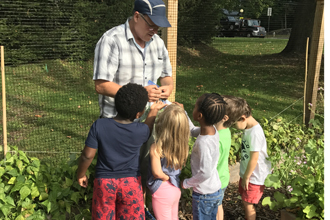 Farmer Dave had his helpers harvesting peppers and green beans. The children were very proud of their efforts. All were amazed to learn that the newly established garden has provided over 200 pounds of fruits and vegetables to a soup kitchen in Mount Vernon.
On the way back to school, the kids saw Mayor Mary Marvin and stopped to tell her all about their time in the community garden. She even had a picture taken with the class.
One of the objectives of the Jr. K program is to have the students interact with the community as much as possible.
To learn more about Eliza Corwin Frost and the Jr. Kindergarten program, contact Mandy Macmillan-Bell, director of admission.
Pictured here: Farmer Dave with children from Eliza Corwin Frost's Jr. Kindergarten program.
Photos courtesy Katie Gojkovich, Executive Director, Christ Church Bronxville