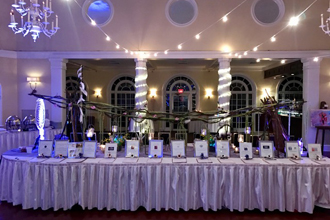 By Daisy Neumark, Reformed Church Nursery School (RCNS) Parents Board
March 22, 2017:  The Reformed Church Nursery School held its annual Progressive Dinner fundraiser on March 11.
The evening began with cocktails and hors d'oeuvres at one of seven host homes in town.
From there, parents and teachers convened at Siwanoy Country Club where they enjoyed festival-themed food and beverages, beautiful artwork by the children, live and silent auctions, a band, a photo booth, and a fortune teller. 
With "Peace, Love & RCNS" as the theme, the club was adorned with glowing white lights, feathers, flowers and dreamcatchers.
Proceeds from the event will support furthering technological upgrades to the school and classrooms, continuing education for teachers, and supporting the special programs and performances for our students.

Pictured here:  Livingroom of Siwanoy Country Club decorated for the Reformed Church Nursery School benefit. 
Photo courtesy Daisy Neumark