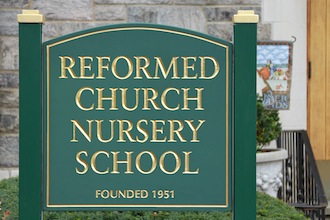 By Daisy Hogan Neumark, Parent Writer for The Reformed Church Nursery School

Feb. 22, 2017:  The Reformed Church Nursery School (RCNS) is partnering with Bundles of Joy NY, a not-for-profit 501(c)(3) startup organization located in Bronxville and founded by RCNS mom Adrienne Harper.  
Bundles of Joy provides new moms and babies from birth to 3 years with the essentials they need to thrive. The charity leverages community partnerships to help those in low-income or homeless situations in local neighborhoods.
As a place of extreme haves and have-nots, Westchester County is the ideal location to engage communities that have with communities that are in need.  

There will be a year-round drive at RCNS, with one main collection box. Bundles of Joy also hopes to get local businesses and community interest to host drives either for a day, a week, or a month going forward. Bundles of Joy can also pick up from homes.
Bundles of Joy collects new and "nearly new" baby items through grassroots community drives and corporate donations. Donations are then sorted, bundled, and delivered to disadvantaged children through a network of social service agencies and local hospitals. 
To get involved, please visit www.bundlesofjoyny.org to learn how to donate items, host a drive, and further the mission.  

Photo by A. Warner