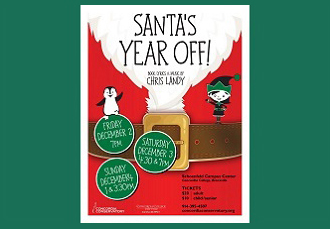 By Kathleen Suss, Executive Director, Concordia Conservatory

Nov. 30, 2016: Concordia Conservatory presents its 17th annual holiday community musical, Santa's Year Off! with five shows at the Schoenfeld Center on the campus of Concordia College on Friday, December 2 (7:00 pm), Saturday, December 3 (4:30 pm and 7:00 pm), and Sunday, December 4 (1:00 pm and 3:30 pm).
The book, music, and lyrics of Santa's Year Off! were written by Concordia Conservatory alumnus and Bronxville High School graduate Christopher Landy '14, a junior currently a composition and film major at Northwestern University. This is the first holiday community musical created and composed by a Conservatory graduate.
The members of the cast of children and young adults from ages 8 to18 hail from Westchester and Fairfield Counties. The members of the cast are Sarah Angevine, Julia Obnibene, Katie Suss, Maya Madhavan, Renee Ai, Catie Burnell, Colleen DeGennaro, George Cooney, Gabby Adams, Robert McGinness, Jacoby Goodson, Renz Toledo, Lyndsie Schultz, Jeffrey Rohr, Paul Hodulik, Caleigh McCrink, Peter Keller, Anthony Gjelaj, Olivia Damasco, Anthony Evangelista, Joshua Gleason, Caroline Richardson, Maya Engenheiro, Alexis Pinto, Elizabeth Caminiti, Chloe Simonte, Maddy Smith, Kyle Smith, Elina Cummings, Amelia Bornmann, Alana McGinness, Jenna Velez, Elizabeth Cioffi, Joanne Arana, Renee Arana, Julia Arditi, Natalie Beit, Ines DosSantos, Quinn Benedikt, Surriah Sheronick, Katarina Seuffert, Sydnei McKnight, Sofia Adams, Olivia Arditi, Luke Szczepenski, Nora Podoll, Rihanna Samson, Caryn Cummings, Max Shearon, Joshua Nonfleuyus, Rye Adkins, Kailee Fino, Kimberly Palomino, Kaden Cummings, Lily Bonnem, Ingrid Krawiec, and Emily Share.
The members of the production team are Greg Suss, stage director, Jon Klibonoff, music director, and Audry Ginsburg, choreographer. The producers for the production are Marcy Damasco, Kim Smith, Michele Simonte, Sharon Shearon, and Eleanor Evangelista.
Since 1999, Concordia Conservatory has produced an annual holiday musical as a tuition-free community outreach program funded by private contributions from donors throughout Westchester County.
Tickets are $20 for adults and $10 for seniors and children and are available by phone at 914-395-4507 or online at www.concordiaconservatory.org.
Pictured here:  Postcard advertising Concordia's musical this year.
Photo courtesy Kathleen Suss, Executive Director, Concordia Conservatory