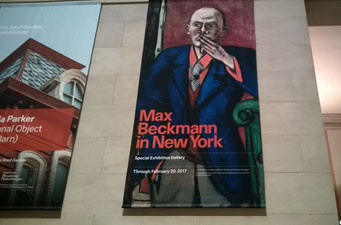 By James Lettiere, Art Critic

Nov. 23, 2016:  While visiting London and Paris during the last week of October, I was fortunate to attend two exciting exhibitions, and I was prepared to write about them (Abstract Expressionism at the Royal Academy of Arts in London and a remarkable joint Picasso–Giacometti show at The Musée Picasso in Paris).
However, I came upon the Max Beckmann show at The Metropolitan Museum of Art, and it surely deserves our attention. The show has paintings painted by Beckmann while living in New York City and paintings that have a connection to museums, galleries, and collectors in the New York art world.
There are many portraits, self and others, and they encourage the viewer to try to read the mood of the subjects. His still-life and group scenes are vibrant and enjoyable, but in a serious vein. 

I read a rather somber review in The New Yorker after seeing the exhibition. My view was different because while he was living in self-imposed exile, his work demonstrated an exuberant connection with life.
The Metropolitan Museum of Art
Open Seven Days a Week
Sunday–Thursday: 10:00 am to 5:30 pm
Friday and Saturday: 10:00 am to 9:00 pm
Closed Thanksgiving Day, December 25, January 1, and the first Monday in May 
Pictured here:  A poster advertising the Max Beckmann exhibit.

Photo by James Lettiere