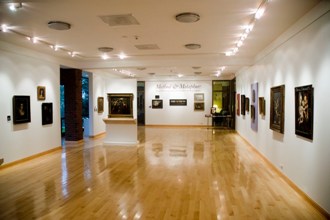 By Elizabeth Vranka, Executive Director, OSilas Gallery, Concordia College

Nov. 16, 2016:  An exhibition titled Partners: Reform & Revolution will open at the OSilas Gallery on the campus of Concordia College on Thursday, November 17, and will run through December 10. There will be an opening reception on November 17 at 7:00 pm.
Partners is an exhibition of art created through a collaboration of students with special needs from Eastchester and Tuckahoe high schools, their peers, their art teachers, and students from Concordia's Education Department. The project emphasizes the importance of creating art together.
This exhibition is sponsored by The Heart of Neiman Marcus Foundation, which supports organizations that provide enriching arts experiences to youth.
Pictured here:  OSilas Gallery at Concordia College.
Photo courtesy OSilas Gallery