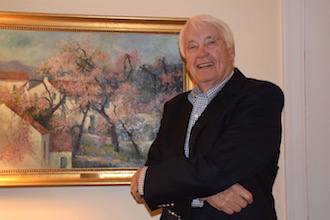 By Carol P. Bartold

Nov. 16, 2016:  "Expert" is not a word that writer, teacher, and former museum curator William Agee likes. "I'm a historian," he emphasized. "This is what I believe and think. It's what I have studied."
Bill considers his latest book, Modern Art in America 1908-68, published in March of 2016 by Phaidon Press, his own history. "I told the publisher that I was not going to write a standard textbook with no tone or edge to it," Bill said. "I really wanted to write what had been important to me."
The author of several books, Bill explained that in Modern Art in America 1908-68, he has laid out in detail a continuity over the entire sixty-year time span that most art history texts treat as two distinct eras, with 1945 as the split. "There is more connection between pre- and post-1945 painting than people have ever talked about," he said.
Agee chose 1908 as the starting point of his study because social, demographic, and technological developments that year marked the beginning of a distinct modern age. Henry Ford invented the Model T automobile, which began the shift from an agrarian to an industrial society in America. Five years after their first flight, the Wright Brothers flew for two-and-a-half hours. "That changed the world," Agee noted. Also in 1908, President Theodore Roosevelt sent his Great White Fleet of battleships on a journey around the world to establish America as one of the world's great imperialistic nations.
Although art does not always strictly follow historical developments, Agee said, there were three significant events in 1908 that established a distinctly different and modern direction for art. A New York exhibition of painters who were part of the Ashcan School of realism gained national attention for the movement. That same year, Henri Matisse, at the urging of American artists in Paris, opened a school. "Working with Matisse was being right on the cutting edge," Agee said. Also in 1908, Alfred Stieglitz opened his gallery, 291, in New York and showed the best modern art from Europe and America. The gallery became a laboratory for working through modernist ideas, and from the gallery there came a first American wave of modern art.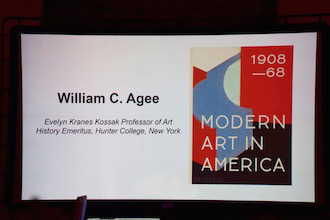 "In 1968, art changed as the world changed," Agee said. Nineteen sixty-eight was a year of revolution that brought about a huge loss in faith in institutions of all types, he observed. Museums were visible institutions that represented money and power. "The same is true of painting as a craft, as making something with paint, canvas, and brushes." Although Agee feels that good art still appeared after 1968, it was created by artists who matured before then.
"Pre-1968 I felt we in the New York City art world were part of something special," Agee said. "There was a common understanding and a mutual respect among people. After 1968, the divisions became so bitter we couldn't have that."
After earning a degree at Princeton University and studying at Yale University, Bill Agee began his career in the art world as a curator and also worked as a museum director. He held positions at the Whitney Museum and the Museum of Modern Art in New York, at the Pasadena Art Museum (precursor to the Norton Simon Museum) in California, and at the Museum of Fine Arts in Houston, Texas.
After he left museum work, Agee worked on research projects with the help of fellowships. A friend at Hunter College, the chair of the art department, suggested that Agee teach a graduate seminar. That graduate seminar led to a 20-year teaching career at Hunter, where he was awarded an endowed chair, the Evelyn Kranes Kossak Professor of Art History. He retired in 2014.
"I have kept on working," Agee said. "I will write as long as I feel I have something to say."
Pictured here:  William Agee and publicity for his book.
Photos by A. Warner