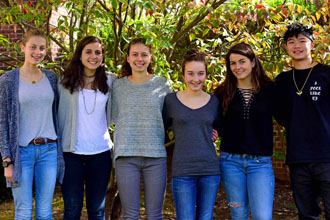 By Plamena Quintavalla, Bronxville School Reporter for Syntax

Nov. 16, 2016:  Six Bronxville High School students have been selected to Area All-State music ensembles by the Westchester County School Music Association (WCSMA) for its 2016 Area All-State Festival Concert, which was held on November 10 at SUNY Purchase.
Juniors Eva Cagliostro (string bass) and Xavier Zhang (violin) were selected to perform with the symphony orchestra, junior Delfina Maldonado (violin) was selected for the string orchestra, and junior Sophia Sulimirski (oboe) was selected for the band. Selected to perform with the women's chorus were junior Margaux Frohlich (soprano) and senior Abby Geiling (soprano). 
Performers were chosen by WCSMA on the basis of auditions at last spring's New York State School Music Association (NYSSMA) Solo Evaluation Festival and recommendations from their music teachers. WCSMA, which is the county's arm of NYSSMA, sponsors the Area All-State Music Festival each year for eligible Westchester sophomores, juniors, and seniors. 
Pictured here (L to R): Sophia Sulimirski, Delfina Maldonado, Eva Cagliostro, Margaux Frohlich, Abby Geiling, and Xavier Zhang. 
Photo courtesy The Bronxville School