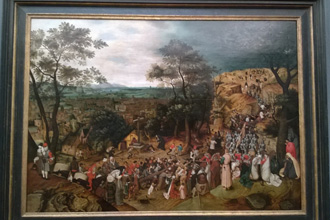 By James Lettiere, Art Critic

Jul. 27, 2016:  I traveled to Germany recently, ostensibly to attend a wedding in the small Alpine village of Murnau in the south of the country. On either side of the event I had time to spend in Munich and Berlin and was able to visit a cultural institution in each city that I had never seen before. 
The Berlin Kulturforum is a collection of museums, concert halls, libraries, and institutes in the center of Berlin. It was built after World War II in West Berlin after many of prewar Berlin's arts institutions disappeared behind the Berlin Wall in East Berlin. 
My focus was on the Gemäldegalerie, a painting gallery that contains magnificent examples of Italian Renaissance paintings and panels, as well as Vermeer, Cranach (the elder and younger), Bruegel, and many others.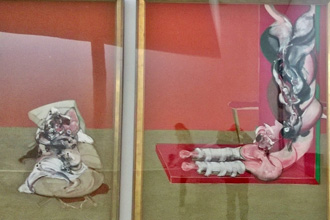 In Munich, my other discovery was the Pinakothek der Moderne. This is also a picture gallery, but it also includes floors and galleries devoted specifically to architecture, works on paper, and modern design. The main picture gallery includes works of painters such as Bacon, Beckmann, Kiefer, Braque, Picasso, and Dix.
The galleries are spacious and well lit. Moving through the museum was pleasant and not at all like walking through a shopping mall, as it seems in some museums.
If you are contemplating a trip to Europe and can make it either to Berlin or Munich, these galleries are well worth the effort to visit.

Pictured here:  Photos taken in Berlin (top) and Munich art galleries.
Photos by James Lettiere