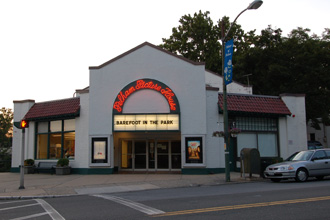 By Amy Cole, ​Director of Communications and Outreach, The Picture House Regional Film Center

Jul. 27, 2016:  On Wednesday, July 27, at 7:30 pm The Picture House Regional Film Center (TPH) in Pelham will present an advance screening of the new film Equity (R rated, 100 mins.), followed by a post-film discussion and Q&A with director Meera Menon.
Equity opens nationwide on Friday, July 29.
Promoted as "the first female-driven Wall Street movie," Equity, which premiered to critical acclaim at the 2016 Sundance Film Festival, tells the story of an investment banker (Anna Gunn, Breaking Bad) who is trying to work her way up the Wall Street ladder while a prosecutor (Alysia Reiner, Orange is the New Black) keeps an eye out for corrupt practices.
The cast is mostly female, and the film is written (by Amy Fox), directed, and produced (by co-stars Alysia Reiner and Sarah Megan Thomas) by women.
The Hollywood Reporter said of the film, "Making industry headlines before it even screened at the ongoing Sundance Film Festival when Sony Pictures Classics acquired it for distribution, Equity is a smart thriller set in the corporate world that disguises its modest budget with an intelligent script and good set of hooks."
After the film, Picture House critic-in-residence Marshall Fine will moderate the discussion and Q&A with the director
Meera Menon is a writer, director, and editor whose 2013 feature directorial debut, Farah Goes Bang, premiered at the Tribeca Film Festival. Menon was awarded the inaugural Nora Ephron Prize for a groundbreaking woman filmmaker by Tribeca and Vogue. That year, she was also showcased as one of Glamour magazine's 35 Women under 35 Running Hollywood. More recently, she was selected to be a fellow at 20th Century Fox's Global Directors Initiative.
Menon received her BA in English and art history from Columbia University and her MFA from the University of Southern California's School of Cinematic Arts. Menon's father, Vijayan Menon, is a film producer and founder of Tara Arts, which has served as a cultural ambassador to members of the Indian diaspora for over thirty years. As a result, Menon grew up in the South Asian film industry and won a national television award in India for her performance when she was 18 on the hit TV show American Dreams.
Tickets to the special advance screening and discussion are $15 for general admission and $12 for students, seniors, and members. They are available at www.thepicturehouse.org or at the box office, 175 Wolfs Lane, Pelham, NY 10803.

Pictured here:  The Picture House Regional Film Center.

Photo courtesy Amy Cole, ​Director of Communications and Outreach, The Picture House Regional Film Center