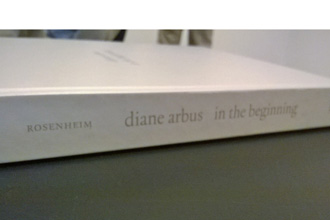 By James Lettiere, Art Critic

Jul. 20, 2016:  There is sure to be much written and talked about with respect to the Diane Arbus exhibition of photographs that just opened at The MET Breuer, Diane Arbus: In the Beginning. The exhibition focuses on early examples of Arbus's pictures, ones she took from 1956 to 1962 in the five boroughs of New York City, with a handful taken in New Jersey.
Arbus is well known for her subject matter, namely, humanity's gritty side. The pictures in this exhibition seem to be more personal than her later pictures. The images project a dark moodiness that doesn't seem to me to be present in the more technically proficient later images. She is able to focus on the unique characteristics of her subjects that make them compelling to observe.
There are over 100 photographs, many part of the museum's Diane Arbus Archive, which was acquired in 2007, and never before seen by the public. There are also a number of handsome photographs by other photographers that are grouped as contemporaries or inspirations, including Robert Frank and Garry Winogrand.
The MET website contains a very good slide show of some of the highlights from the exhibition.
The exhibition runs through November 27, 2016.
The Met Breuer
945 Madison Avenue
New York, NY 10021
Phone: 212-731-1675 
Closed Monday
Tuesday–Thursday: 10:00 am–5:30 pm
Friday and Saturday: 10:00 am–9:00 pm
Sunday: 10:00 am–5:30 pm

Pictured here:  Catalogue of the exhibition.  

Photo by James Lettiere