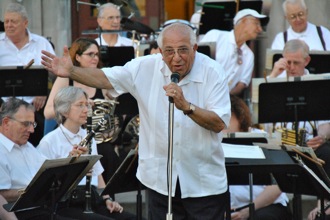 By Carol P. Bartold

Jun. 29, 2016:  July in Bronxville means the return of the Bronxville Pops Concert Band's evening programs on the steps of The Bronxville School. This year the group, under the baton of Al Mingrone, will offer live music under the stars on July 6, July 13, July 20, and July 27, all Wednesdays, with the downbeat at 8:00 pm. All concerts are free. 
This summer's season will be the band's forty-first. A familiar figure on the local scene, Mingrone taught at The Bronxville School for twenty-eight years and was an adjunct professor at Concordia College. He is a Logan, West Virginia, native and a graduate of Teachers College, Columbia University. 
The Bronxville Pops Concert Band formed in 1974 with six professional musicians and has grown into a full-fledged symphonic band with over sixty members, some of them former Bronxville students. Concert patrons can expect to hear a wide repertoire that includes classic marches, Broadway and film tunes, and international favorites, as well as American standards and compositions for concert band. 
From time to time, Mingrone has been known to showcase the conducting talents of some of his friends in the music business. 
"This is all for the love of music," Mingrone said a few years ago. "Many of these musicians are local and regional music teachers, and others are longtime players." 
Formerly sponsored by the Bronxville Chamber of Commerce, the live summer band concerts must now rely on financial support from donations from the public as well as from local businesses. 
As Mingrone says, "Bring a blanket, bring a chair, and enjoy live music under the stars."

Pictured here:  Al Mingrone, conductor of The Bronxville Pops Concert Band.

Photo by A. Warner