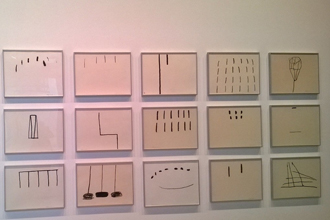 Philip Guston, Painter, 1957-1967
April 26 to July 29, 2016
By James Lettiere, Art Critic 

Jun. 22, 2016:  This fascinating exhibition at the gallery Hauser & Wirth represents a pivotal period in the artistic growth of artist Philip Guston. The gallery's website describes the exhibition as follows: "Featuring 36 paintings and 53 drawings, many on loan from major museums and private collections, the exhibition draws together a compelling body of work that reveals the artist grappling to reconcile gestural and field painting, figuration and abstraction."   
Philip Guston was a boyhood friend of Jackson Pollack's and a high school dropout. During his artistic career he was able to paint images that are both attractive and darkly portentous. He progressed through a number of stylistic changes; his choices have a wide range, from the social realism of WPA murals, to abstract expressionism of the 1950s and '60s, to the powerful symbolism that he is well known for today.  
The exhibition has a large number of dramatic paintings. The highlight in my mind, however, was the room dedicated to smaller-format drawings that are hung together in a salon style.  
Gallery website: "The exhibition extends across four dedicated rooms, tracing the evolution of Guston's forms through the 1960s until they are reduced to 'the isolation of the single image.'"  
Hauser & Wirth 
511 West 18th Street
New York 10011
212-790-3900
www.hauserwirth.com   
Summer opening hours
20 June – 29 July
Monday – Friday
10:00 am – 6:00 pm    
Pictured here:  Drawings by Philip Guston at the Hauser & Wirth art gallery.

Photo by James Lettiere