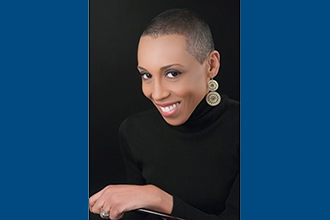 By Kathleen Suss, Executive Director, Concordia Conservatory 

Jun. 8, 2016:  Concordia Conservatory will host a Musical Adventures at the Library concert on Monday, June 13, at 4:00 pm at the Sommer Center for Worship and the Performing Arts on the campus of Concordia College featuring New York Times best-selling author Andrea Davis Pinkney with guitarist Rami Vamos.  
The performance will include book readings by Pinkney of her recent releases with musical accompaniment by Vamos. The event is sponsored by The Community Fund of Bronxville, Eastchester, and Tuckahoe in collaboration with the public libraries of Bronxville, Eastchester, and Tuckahoe. 
This program has brought local community awareness of the arts and literature to the southern Westchester County community at large. Erin Schirota, the children's librarian of the Bronxville Library, Theresa Chang, the children's librarian of the Eastchester Library, and Ellen Tannenbaum, the children's librarian of the Tuckahoe Library, are partners in this program. 
Andrea Davis Pinkney's literary repertoire encompasses a wide variety of styles, including picture books, novels, and works of historical fiction and nonfiction. Some of her notable titles are Bird in a Box and With the Might of Angels. Andrea has also written the illustrated books Sit-In: How Four Friends Stood Up by Sitting Down, a Parents' Choice Award winner; Sojourner Truth's Step-Stomp Stride, a 2010 Jane Addams Honor Book and School Library Journal Best Book of the Year; the Coretta Scott King Author Honor Book Let it Shine: Stories of Black Women Freedom Fighters, which also won the Carter G. Woodson Award for historical works for young people; Duke Ellington, a Caldecott Honor and Coretta Scott King Honor Book; and Boycott Blues: How Rosa Parks Inspired a Nation, a featured selection on Oprah and Friends radio. 
In addition to being a talented author, she has also been a publishing executive, having worked at several publishing services. She was named one of the "25 Most Influential Black Women in Business" by the Network Journal and was selected as one of the "25 Most Influential People in Our Children's Lives" by Children's Health Magazine.   
Rami Vamos is a performer, educator, writer, and composer with a varied creative output, including chamber music and children's musicals. He writes and hosts for the Chamber Music Society of Lincoln Center's Chamber Music Beginnings series and teaches K-5 music in the Pelham School District. Vamos holds degrees from Yale, Oberlin, and Queens College and is currently string department head at Concordia Conservatory. 
This event is free and open to the public. For more information, please call 914-395-4507.

Pictured here:  Author Andrea Davis Pinkney.

Photo courtesy Kathleen Suss, Executive Director, Concordia Conservatory