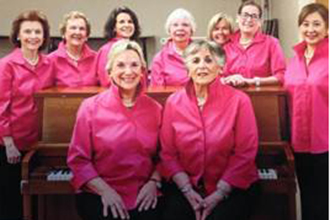 By Joan Toffolon, Member, Board of Directors, Gramatan Village

Apr. 20, 2016:  The sun was shining on Sunday, April 10, as sixty-five music lovers visited the Bronxville Public Library for "Sing into Spring," an afternoon of music performed by the Song Pipers Music Therapy Ensemble and the Pelham Larks. 
The event was sponsored by Gramatan Village, and admission was free for all members of the local community. 
The two-hour event featured a wide range of musical genres, and all who attended left the performance with smiling faces and uplifted spirits. "We sincerely thank the Song Pipers and the Pelham Larks for sharing their time and talent with the members of the community," said Julie Dalton, executive director of Gramatan Village. "The exceptional performance was enjoyed by all and a terrific way to welcome spring!" 
The Song Pipers is a nonprofit music therapy ensemble established in 1949 in Bronxville. Almost 70 years from its founding, the Song Pipers continues to be a vibrant volunteer organization, and it prides itself on giving back to those who are emboldened by music therapy. 
The Pelham Larks is an accomplished group of 20 women from Pelham and the surrounding communities that sing both a cappella and with musical accompaniment for audiences "from 2 to 92" under the direction of Jeffrey Hoffman, choirmaster of Christ Church in Pelham. The Larks was founded by the Junior League in 1951.  
"Sing into Spring" was a true community event. The audience loved the music and enjoyed seeing old and new friends. "It was a thoroughly enjoyable Sunday afternoon for all who attended," said Kerry Walsh, president of Gramatan Village. 
Upcoming Gramatan Village events include the eighth annual May Magic Benefit at Siwanoy Country Club on Sunday, May 1, where Marcia Lee and Sarah Thornton Clifford will be honored for their outstanding contribution to the Bronxville community. During the event, mentalist Oz Pearlman, who appeared on America's Got Talent, will perform and is sure to dazzle the audience. 
Additional future events include a docent-led tour at the Rockefeller Estate on May 12, Cooking with Nancy Contessa--Recipes from the Farmers' Market on June 7, and a kick-off summer visit to Walter's Hot Dogs on June 20. 

Gramatan Village is an organization that engages community residents who want to remain in the home and the neighborhood they love. The organization supports aging-in-community with a network of volunteers, community partnerships, and peer connections that enable members to stay independent and fully engaged in the community. For more information, contact Gramatan Village at 914-337-1338 or CLOAKING or visit the website, www.gramatanvillage.org. 
Pictured here:  The Song Pipers.

Photo courtesy Joan Toffolon, Member, Board of Directors, Gramatan Village