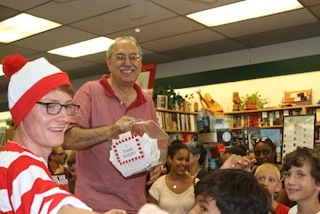 Aug. 1, 2012:  Over one hundred earnest, tenacious young detectives, along with parents, family members, and friends, converged at Womrath Bookshop on Pondfield Road yesterday to celebrate Where's Waldo's 25th anniversary and their success in finding Waldo in Bronxville.  Fans of Waldo filled the store's aisles and enjoyed snacking on popcorn, cookies, and lemonade as they waited for the big moment--drawings for prizes.
"You guys found me!" Waldo exclaimed, as he made his way through the crowd and posed for photos with his new friends.
Lina Imamura, one of the participants who turned in sixteen of the possible twenty cards handed out by local merchants when Waldo was spotted, won the special drawing for a six-book deluxe set of Where's Waldo books.  Emma Van Ness, another super-sleuth won a Where's Waldo poster book.
Other winners in the drawing took home Waldo tote bags, books, and postcard books.
Waldo spent July in Bronxville to celebrate the big anniversary of his popular series of Where's Waldo books.  But he didn't let anyone know exactly where, in the village, he was hiding.  When the folks at Womrath got wise to Waldo, they set up a search headquarters.  More than 150 local young detectives signed up to find Waldo and launched an exhaustive month-long search for the elusive, smiling--some might say smirking--character wearing his trademark red-and-white cap and round eyeglasses.
Armed with a list of 20 stores where Waldo was reported trying to stay out of sight, the young sleuths set out from Womrath on a mission to visit local merchants as well as the Bronxville Public Library and find Waldo.  Alone and in groups, accompanied searchers fanned out over the village's business district.
From Provisions for Pets on Kraft Avenue to Bronxville Running Company on Pondfield to Candyland on Park Place, Waldo fans combed the aisles, examined shelves, scrutinized window displays, and left not one square inch uninspected in their quest.  Each successful spotting of Waldo earned the finder a card, and the first 100 seekers to turn in eight different cards earned a Waldo button.
At Provisions for Pets, brothers Tucker, Ethan, and Timothy R. were hot on Waldo's trail.  They had already spied at 16 business establishments.  Owner Steve Singer said that well over 100 children had visited the store.  "I've run out of cards three times," he said.
Mike DiBlasi of Bronxville Running Company reported that many five- to twelve-year-olds had hunted for Waldo at the store.  He noted that having parents who shopped while their children searched was an added benefit to the event.
"Where's Waldo has boosted our business," said Tevin Troja, manager of Dobbs and Bishop on Pondfield Road.  "The parents buy, and we've gained some new customers.  This has been fun for us."  Troja also noted that Waldo tended to move around and hide in a different place every few days in an attempt to confound his fans.
Candyland on Park Place, always a popular destination, saw many hunters in the mornings and evenings, especially.
Participating in the Where's Waldo search were:

Pondfield Road merchants: Dobbs & Bishop, Arista Camera, Art & Frame Studio, Silver Spoon, Elite Sweets, The Silk Road, Tryforos & Pernice Florist, Topps Bakery, Shoes 'N' More, and Bronxville Running Company

Kraft Avenue merchants:  Provisions for Pets, SF Express, Fierson's, Kensington Paper, Swizzles, and Breezeway

Park Place merchants:  Häagen-Dazs, Candyland, Weezie D., and Chaos
Pictured here: Where's Waldo celebration at Womrath Bookshop with Waldo (left), Womrath owner Gene Sgarlata (standing, center), and parents and children.
Photo by N. Bower