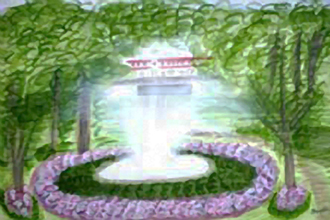 August 24, 2011:  The Bronxville Women's Club will hold a reception to mark the opening of an art exhibit of works by artist Martha Silver on Thursday, September 22, from 10:00 am to 7:00 pm.
Martha Silver will be donating all the proceeds of the sale of her art to The Shelter Pet Alliance for the animals of the Yonkers Animal Shelter.
The exhibit will also be open on Friday, September 23, from 10:00 am to 5:00 pm, and Saturday, September 24, from 9:00 am to 2:00 pm.
Martha Silver is an accomplished watercolor artist who loves to paint.   Her techniques vary with each painting and her paintings cover a wide variety of subjects.
Martha takes full advantage of surrounding beauty for her subjects.  Her paintings are also a product of her imagination and her inspiration.  Elements from the many different places she has lived or visited can be found in her art.  Subjects are often given an individual artistic interpretation with abstract nuances.
Martha continues to be inspired by her love of the sea and of sailing as well as her love of animals and the natural environment, both along the Bronx River and the coast of Maine.  Many of her paintings also reflect her travels to, and her love of, Africa and the Bahamas.
Martha also draws her inspiration from her husband and their puppy, Rebel, who was adopted from the Yonkers Animal Shelter.  They adopted a dog named Jake in 1997, also from the Yonkers Animal Shelter.  Jake died in 2009 of kidney disease at age 14 1/2 years.  Later that year Rebel arrived at the shelter and they knew immediately that they had to adopt him, as he looked just like Jake!
Martha has retired from teaching special education at the Bronxville Middle School.  She has a masters degree in elementary and special education, as well as a masters degree in instructional technology.  She continues to use her teaching skills to volunteer to read with first-grade students in Maine.  She also volunteers in Maine at the Phippsburg Museum and Phippsburg Volunteer Fire and Rescue.
For more information, please contact The Bronxville Women's Club at 914-337-3252 or visit its website at www.bronxvillewomensclub.org.
Pictured here:  Watercolor by artist Martha Silver.