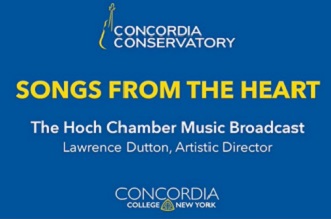 By Marilou Yacoub, Administrative Coordinator, Concordia Conservatory
May 6, 2020: Concordia Conservatory brought musical comfort to the community by broadcasting – for the first time – a Hoch Chamber Music Series concert.
The Saturday, April 25 broadcast via the Conservatory's YouTube channel and local cable TV channels surpassed expectations with a total audience of over 1,000 viewers, reaching 600 more than the Sommer Center at Concordia College would have accommodated.
The Concordia community came together virtually by hosting pre-concert Zoom parties and ordering take-out and delivery to support local restaurants. 
A highlight of the evening was the announcement that Jim Hoch, the Series benefactor, has generously committed to supporting Concordia during this global pandemic by making a challenge donation to support the Conservatory faculty and programs, especially the early childhood, special needs and senior center music programs which have been cut at this time. The Conservatory is depending on good will like this, now more than ever, to continue its commitment to these neediest and most compromised of the community which we serve. 
The broadcast, still available on YouTube, opened with remarks from Concordia College's President Dr. John Nunes and featured Grammy Award-winning violist Lawrence Dutton of the Emerson String Quartet and bassist John Patitucci at Concordia College's Sommer Center, with Broadway's Golden Couple soprano Marin Mazzie and tenor Jason Danieley, violinists Elizabeth Lim-Dutton and Jee Sun Lee, cellist Julia Lichten, the Chamber String Orchestra, and the John Patitucci Trio. This cherished 2012 concert featuring songs of the heart took place before Mazzie's tragic death from cancer in 2018.
For information, please visit www.concordiaconservatory.org and www.concordiacollege-ny.edu or call 914-671-9620.
Photo courtesy Concordia Conservatory
Editor's note: As a public service, MyhometownBronxville publishes articles from local institutions, officeholders, and individuals. MyhometownBronxville does not fact-check statements therein, and any opinions expressed do not necessarily reflect the thinking of its staff.