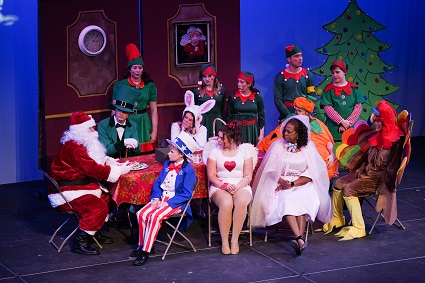 By Rebecca Portnoy, Associate Director of Communications, Concordia College   
Dec. 18, 2019:  This year's Community Holiday Musical, "The Spirit Society," marked the twentieth installment of the beloved Concordia Conservatory tradition. It was special on many levels.
Students from surrounding communities were joined by Concordia College students, including a cohort from the College's innovative ImpactU program, which serves students with intellectual disabilities. Special guest stars included first lady Monique Nunes as the Tooth Fairy, and Concordia Community Choir Director George Heath '11 as Santa Claus, a role he played in the very first production when he was a Concordia College student. St. Patrick was played by Christopher Landy, a student at the Conservatory from age one to eighteen, who two years ago wrote the musical while a junior at Northwestern.
To compose the 20th anniversary show, Conservatory Executive Director Kathleen Suss, who created and launched the annual production in 1999, reached out to two talents well-known to her.
Greg Suss has been involved in the musical from the beginning, serving as writer, composer, lyricist and director in various productions over the years. This year Greg wrote the story and lyrics for the show, which captured Concordia's values of diversity and faith.     
The music was composed by J.P. Redmond, who began studying at Concordia Conservatory at the age of seven and is now in his junior year at The Julliard School.  J.P. has been recognized with a number of honors. He is a 2017 Davidson Fellow and a 2017 National YoungArts Foundation Finalist. He has received four ASCAP Foundation Morton Gould Young Composer Awards, including the 2015 Charlotte V. Bergen Scholarship.  He has received a 2018 BMI Student Composer Award, a 2016 American Composers Forum NextNotes Award, a 2016 National YoungArts Foundation Honorable Mention and 2015 Merit award and a 2013 Jack Kent Cooke Young Artist Award.  He also appeared on NPR's From the Top.
J.P. said: "I had a lot of fun writing music to Greg Suss's witty lyrics and story, and it was special to have it produced at Concordia where so many familiar faces were involved with the show.  It was great to see the kids enjoying it and sharing their talent. The show has always been an important part of the season for me and something I look forward to every year. Getting to return to Concordia for this production was a wonderful opportunity, and I'm grateful to everyone who made it possible. I've carried lots of valuable experience from my time at Concordia to my current studies, including Matt Van Brink starting me early on theory in our composition lessons. It was an honor to come back and create together with the mentors who impacted me as a Conservatory student."
Photo courtesy Concordia College

Editor's note: As a public service, MyhometownBronxville publishes articles from local institutions, officeholders, and individuals. MyhometownBronxville does not fact-check statements therein, and any opinions expressed do not necessarily reflect the thinking of its staff.