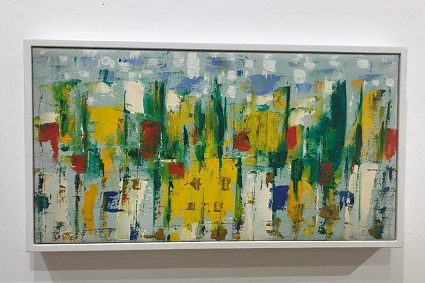 By Elizabeth Vranka, Executive Director of OSilas Gallery at Concordia College
Dec. 18, 2019: Everyone loves a great story and great art. At OSilas Gallery at Concordia College, New York, we have both! 
Currently on view is our pop-up exhibition and sale of the abstract expressionist paintings of Arthur Pinajian (1914-1999). Pinajian died an unknown artist whose obsession with art—creating it, thinking about it, writing about it—consumed his life. 
At one time, Pinajian's work was destined for destruction in the town dump at the artist's direction. Thankfully, that didn't happen and Pinajian's work has enjoyed international attention since its discovery and salvation in 2007. His story and art have been written about in The New York Times,  The Telegraph, and, most recently, the New York Post. It has also been featured on Good Morning America. 
OSilas Gallery is pleased to host a beautiful show of select Pinajian works dating from 1959 through the 1990s.
Today is the last day to view the Pinajian pop-up show. The gallery hours are from 2 pm – 7 pm. All works are available for acquisition, with a portion of proceeds donated to OSilas Gallery. 
The exhibition is free and open to the public. 
Starting December 18 the Gallery will be closed for the winter holiday and will reopen on January 16 at 7 pm for its annual regional high school art exhibition. 
OSilas Gallery is located on the campus of Concordia College, 171 White Plains Road, Bronxville, in the Donald A. Krenz Academic Center on the second level of Scheele Memorial Library. 
Free parking is available on campus and is accessible via entry on Concordia Place off of White Plains Road. For more information on exhibitions and a full listing of gallery events, please see osilasgallery.org.
Photo courtesy OSilas Gallery

Editor's note: As a public service, MyhometownBronxville publishes articles from local institutions, officeholders, and individuals. MyhometownBronxville does not fact-check statements therein, and any opinions expressed do not necessarily reflect the thinking of its staff.