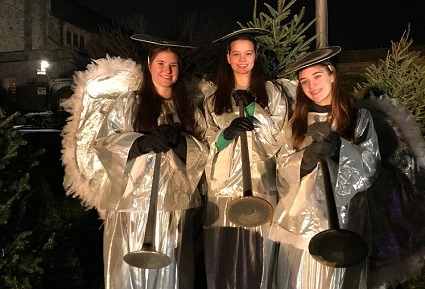 By Jennifer McGrath
Dec. 23, 2019: The 105th annual Bronxville Christmas Pageant will be back on the hillside of the Reformed Church of Bronxville on Tuesday, December 24th.
The Pageant is a live nativity reenactment and begins at 5:30 pm. Every year, spectators marvel as Mary rides a donkey, accompanied by Joseph and the manger angel, to settle into the manger with live sheep. Joining the Holy Family are shepherds, angels on high, wise men, and shepherd boys. Children are invited to pet the animals and meet the participants after the Pageant.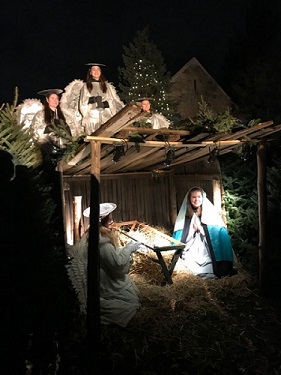 Clergy representing all seven Bronxville churches will participate with readings. While carols will once again be led by Dale Walker, accompanied by the Brass of Bronxville Pops Concert band. The invisible choir welcomes anyone, please just arrive at 5:15.
Below is the full cast for the 2019 Pageant:
Nativity Scene
Mary: Molly Palma, 12th grade, CC
Joseph: Jack Moore, 12th grade, CC
Manger Angel: Evelyn Goddard, 4th grade
Angels:
Ava Downs- 12th CC
Sophia Prior- 12th RCB
Caroline McGrath- 11th SJC
Caroline Palermo- 11th SJC
Anna Kate Kochansky- 11th SJC
Olivia Conniff- 11th SJC
Cate Spitz- 10th RCB
Lauren Rao- 10th RCB
Rachel Conniff- 9th SJC
Ruthie Haims 9th RCB
Edelawit Bird 9th CC
Wise Men:
Tim McGrath
Paul Shoemaker
John Lugano
Shepherd Boys (Youth)
Colton Zybg
Cate Normand
The Christmas Pageant began in 1914 to bring the community together at a time when the country faced the prospect of entering the First World War. Arthur Lawrence, a prominent local resident, who was involved with the Pageant, saw the need to build community spirit and togetherness.
The program today carries on the theme of unity and includes readings and participants from all seven local churches.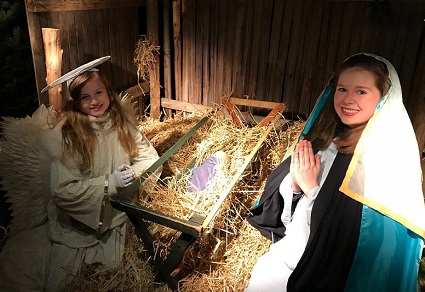 The Pageant is funded entirely by donations. Please send contributions to the Bronxville Christmas pageant, PO Box 397, Bronxville, NY 10708.
For more information, please click here to go to our Facebook page.
Pictured:  Photos from previous pageants
Photos by Sarah Normand
 
Editor's note: As a public service, MyhometownBronxville publishes articles from local institutions, officeholders, and individuals. MyhometownBronxville does not fact-check statements therein, and any opinions expressed do not necessarily reflect the thinking of its staff.