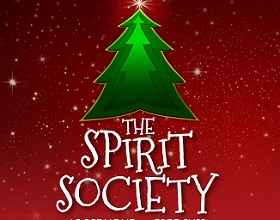 By Marilou Yacoub, Administrative Coordinator, Concordia Conservatory
Nov. 27, 2019:  Concordia Conservatory will present its 20th holiday musical, "The Spirit Society" by Conservatory alumnus J.P. Redmond '17, currently a junior at the Julliard School with lyrics by Greg Suss, on December 7 (4 & 7 pm), and December 8 (1 & 4 pm) in Schoenfeld Campus Center at Concordia College New York.
The cast hails from throughout Westchester and Fairfield Counties.
It includes Ryan Alix, Ciara Andrews, Siena Angelani, Nicholas Arakas, Natalie Beit, Amelia Bornmann, John Bush, Abigail Chang, Elizabeth Cioffi, Mary Debany, Colleen DeGennaro, Lily Delaney, Caris Erman-Thurmond, Anthony Evangelista, Kailee Fino, Gabriel Garcia, Elizabeth Hara, Daisy Harblin, Paul Hodulik, Annie Jaquette, Luke Kennedy, Ingrid Kraweic, Abigail Luca, Carter Mack, Alana McGinness, Maeve & Kelly McWilliams, Lauren & Sarah Mickley, Katie Miller, Sebastian Mord, Kaitlyn O'Shea, Xeni Pavan, Sophia Petrillo, Charlotte & Patrick Phillips, Rory Pingel, Alexis Pinto, Porter Rao, Jeffrey Rohr, Caroline Ryan, Laura Sanchez, Lyndsie Schultz, Katarina, Lauren & Alexandra Seuffert, Max Shearon, Sean Spillane, Connor Spillane, Julia Tobin, Jenna Velez and Ben Wien.
The backstage crew will include Katie Suss (stage manager), with John Langan, Luke Moncada, Annie Petrillo, and Mine Sung.
The production team includes Greg Suss (stage director), Jon Klibonoff (music director), Ana Dimas (choreographer), and Eric Zoback (set design).
The Conservatory's annual tuition-free musical is both a beloved community institution and an effective theatre arts outreach program supported by generous donors who, since 1999, have given over $500,000. In its 20-year history, the musical has seen over 1,500 performers and crew entertain over 18,000 enthusiastic audience members.
Clilck here to get tickets or call 914-395-4507. Tickets are $20 adult and $10 senior/ child. 
Photo courtesy Concordia Conservatory

Editor's note: As a public service, MyhometownBronxville publishes articles from local institutions, officeholders, and individuals. MyhometownBronxville does not fact-check statements therein, and any opinions expressed do not necessarily reflect the thinking of its staff.