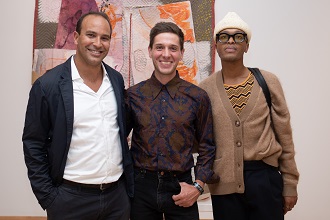 By Elizabeth Vranka, Executive Director of OSilas Gallery at Concordia College
Oct. 16, 2019:  On October 22, in the OSilas Gallery at Concordia College New York, there will be a panel discussion with art collector Bernard Lumpkin and curators Antwaun Sargent and Matt Wycoff. They will discuss contemporary African American art and the collection on view at the Gallery - - "Young, Gifted, and Black: The Lumpkin-Boccuzzi Family Collection of Contemporary Art."    The panelists will also discuss the role of patronage in art. 
Click here to purchase tickets.
Information about the panelists:
Bernard Lumpkin is a noted art collector and supporter of the arts. He currently sits on the Board of Trustees of the Studio Museum in Harlem and the Board of Trustees of the Skowhegan School of Painting and Sculpture. Additionally, he serves on the Painting and Sculpture Committee at the Whitney Museum of American Art and the Media and Performance Art Committee at the Museum of Modern Art.
Antwaun Sargent is an art critic and a writer who has contributed articles to the New York Times, Vogue, The New Yorker, the New York Review of Books. He has also written essays for gallery and museum publications. His first book, The New Black Vanguard: Photography between Art and Fashion (recently adapted for a major New York Times essay),is out this October from Aperture.
Matt Wycoff is an artist, writer, woodworker, designer, and curator. He is a MacDowell Fellow and has been the recipient of studio fellowships at the Bemis Center for Contemporary Arts in Omaha, Nebraska, and The Urban Culture Project in Kansas City, Missouri. Mr. Wycoff is also the collection curator for The Lumpkin-Boccuzzi Family Collection. 
The OSilas Gallery is in the Donald A. Krenz Academic Center on the campus of Concordia College, 171 White Plains Road, Bronxville. It is on the second floor. Free parking is available on campus and is accessible via entry on Concordia Place off of White Plains Road. For gallery hours and a full listing of gallery events, please see osilasgallery.org.
Pictured:  (L to R) Bernard Lumpkin, Matt Wycoff, and Antwaun Sargent.
Photo by Matthew Zefi
Editor's note: As a public service, MyhometownBronxville publishes articles from local institutions, officeholders, and individuals. MyhometownBronxville does not fact-check statements therein, and any opinions expressed do not necessarily reflect the thinking of its staff.