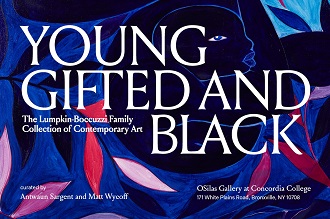 By Elizabeth Vranka, Executive Director, OSilas Gallery at Concordia College
Oct. 2, 2019:  OSilas Gallery at Concordia College New York has opened Young, Gifted, and Black: The Lumpkin-Boccuzzi Family Collection of Contemporary Art, co-curated by writer and critic Antwaun Sargent and collection curator and artist Matt Wycoff. On the evening of September 24, the collectors, curators, and several of the featured artists were among 200 guests on hand to celebrate the world premiere of this exceptional exhibition of works created by artists of African descent, on show through December 7, 2019. 
Young, Gifted, and Black is drawn exclusively from the highly regarded private collection of Bernard I. Lumpkin and Carmine D. Boccuzzi. Although many works in the Lumpkin-Boccuzzi Family Collection have been lent to museums over the years, Young, Gifted, and Black is the first stand-alone public exhibition curated exclusively from this outstanding collection. This exhibition showcases works in a variety of mediums by emerging artists of African descent, alongside works by established artists who paved the way for the younger generation. The exhibition features over 40 important early-career works created during the last 35 years. Young, Gifted, and Black will travel to other galleries and museums across the nation after the show closes at OSilas Gallery.
Collector Bernard Lumpkin said: "The exhibition brings to public view the works of artists in the exciting, formative stage of their careers. In fact, many of the works were created by artists at the age Concordia students are now. Over the exhibit's run I plan to be back and will bring others to see it in this unique context and among members of Concordia's community."
Below is a list of the featured artists
Derrick Adams · Tunji Adeniyi-Jones · Sadie Barnette · Kevin Beasley · Jordan Casteel · Bethany Collins · Latoya Ruby Frazier · Ellen Gallagher · Cy Gavin · Alteronce Gumby · Allison Janae Hamilton · David Hammons · Kenyatta A.C. Hinkle · Lonnie Holley · Rashid Johnson · Samuel Levi Jones · Deana Lawson · Glenn Ligon · Eric N. Mack · Kerry James Marshall · Wardell Milan · Jennifer Packer · Adam Pendleton · Adrian Piper · Paul Mpagi Sepuya · Gerald Sheffield · Lorna Simpson · Sable Elyse Smith · Vaughn Spann · Tavares Strachan · Henry Taylor · Chiffon Thomas · Mickalene Thoma s · William Villalongo · Kara Walker · D'Angelo Lovell Williams · Wilmer Wilson IV · Lynette Yiadom-Boakye
The exhibition is free and open to the public; however, groups of eight or more are requested to make advance reservations to view the show with Executive Director Elizabeth Vranka at  CLOAKING . Gallery hours are Tuesday, Wednesday, and Friday noon to 5:00 pm, Thursday, noon to 7:00 pm, Saturday, 2:00 to 5:00 pm, and by appointment by contacting the executive director.
OSilas Gallery is on the campus of Concordia College, 171 White Plains Road in Bronxville in the Donald A. Krenz Academic Center on the second level of Scheele Memorial Library.  Free parking is available on campus and is accessible via entry on Concordia Place off of White Plains Road. For more information on exhibitions and a full listing of gallery events, please see osilasgallery.org.
See photos from the exhibition opening below: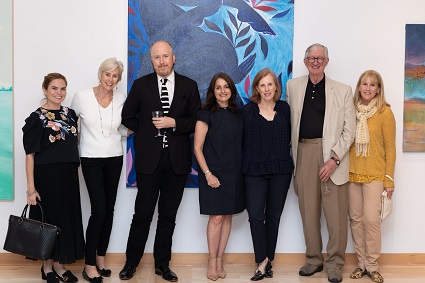 OSilas Gallery Executive Director Elizabeth Vranka (center) with members of the gallery's board of advisors (L to R) Lisa Rao, Judy Foley, Bart Bland, Paige Jernigan, Chuck Little, and Maggie Marrone.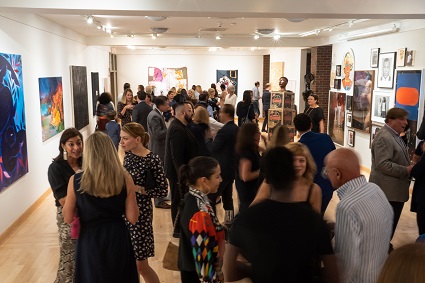 Opening night in the gallery.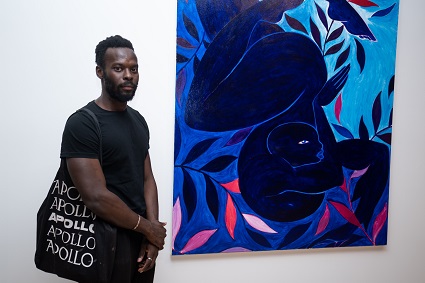 Artist Tunji Adeniyi-Jones with his Blue Dancer (2017).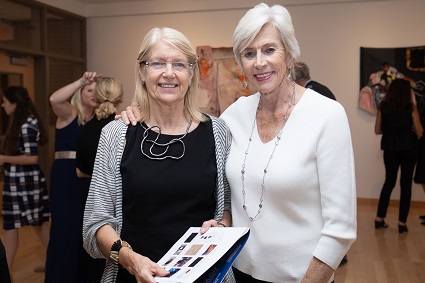 Tina Staudt and Judy Foley.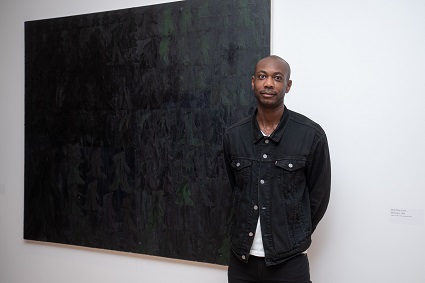 Artist Alternonce Gumby with his work Gumby Nation.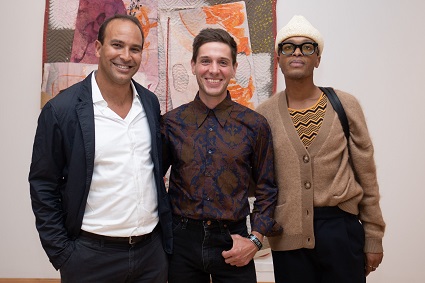 Collector Bernard Lumpkin with curators Matt Wycoff and Antwaun Sargent.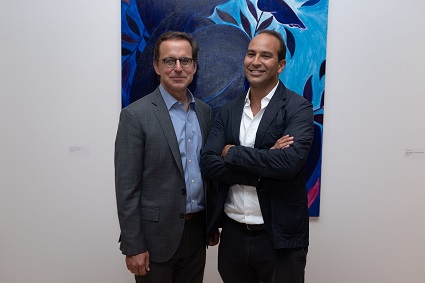 Collectors Carmine Boccuzzi and Bernard Lumpkin.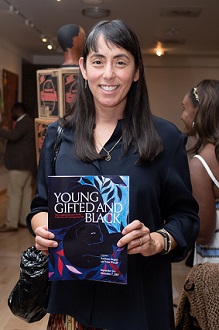 Graphic designer Miko McGinty.
Photos by Matthew Zefi, courtesy Concordia College.

Editor's note: As a public service, MyhometownBronxville publishes articles from local institutions, officeholders, and individuals. MyhometownBronxville does not fact-check statements therein, and any opinions expressed do not necessarily reflect the thinking of its staff.