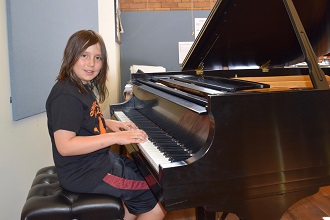 By Michael Ganci, Syntax for The Bronxville School
Oct. 2, 2019:  Sam Bright, a Bronxville Middle School sixth-grader and talented young musician, has been selected to perform his own original composition during the Young Composer Honors Concert at the New York State School Music Association Winter Conference in December.
Bright described his piano composition Sahar Aswad, which translates as "dark magic" in Arabic, as a heart-pumping piece that he is excited to share with an audience.
"I chose this name because this piece has a very dark aesthetic, and it uses a lot of Middle Eastern scales," said Bright, who has been playing the piano since he was seven. "I always liked heavy metal and rock, and I wanted to apply it to a classical piece." 
Bright wrote his composition as a fifth-grader when his elementary school music teacher, Adele Hoffman, encouraged him to enter the competition. She kept him on task with the deadline and requirements, which included sending a recording of his composition, a copy of the music, and his application. Out of hundreds of applicants, Bright is among eleven students in the state to be selected to perform at the concert. Only one other child is of elementary school age, while the rest are middle and high school students.
"For such a young composer, his work shows great depth and talent," Hoffman said. "He is able to seamlessly weave together a variety of musical styles and moods as well as meters. By the end of his composition, there is a feeling of completeness--the work makes great musical sense."
Hoffman said that Bright is already extending the boundaries of his musical endeavors--he plays the double bass in the middle school orchestra, plays the guitar and electric bass, and participates in a rock band, for which he writes the music. Outside of school, Bright takes private piano lessons and studies composition at Concordia Conservatory with Dr. Matt Van Brink in Bronxville.
The Young Composer Honors Concert will be held at the Rochester Convention Center in Rochester, New York, from December 5 to 8.
Pictured here: Bronxville Middle School sixth-grader Sam Bright.
Photo courtesy The Bronxville School
Editor's note: As a public service, MyhometownBronxville publishes articles from local institutions, officeholders, and individuals. MyhometownBronxville does not fact-check statements therein, and any opinions expressed do not necessarily reflect the thinking of its staff.