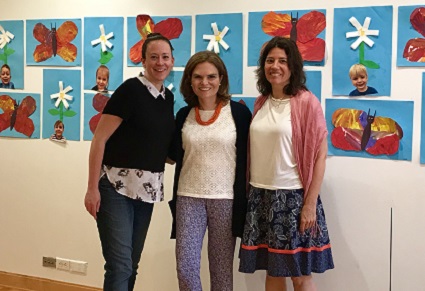 By Elizabeth Vranka, Executive Director, OSilas Gallery & Art Studio
Sep. 11, 2019:  OSilas Art Studio at Concordia College is thrilled to announce that art class registration is now open for the 2019 fall/winter semester. A true community gem, the OSilas Art Studio offers over a dozen classes per week, as well as private and semi-private instruction, for ages three to adult.
Lisa Rao, the OSilas Art Studio program director, is "extremely proud of the quality programming the OSilas Art Studio provides. It is fantastic to see our instructors and students come together weekly to explore different mediums of art, in a wonderful professional studio setting, where their talents are expanded and the gift of art is offered."
OSilas Art Studio class offerings include painting with oils and acrylics, collage, 3D projects, and clay modeling. Most of the sixteen-session classes begin mid-September. Classes do fill up quickly, so parents are urged to register their children soon to avoid disappointment. An adult studio workshop is offered for all skill levels on Thursday mornings. Plans for the coming year include a twice-yearly art show, held in OSilas Gallery, and new weekend art workshops. 
For a listing of current classes and registration information, please visit the art studio's website here. If you have any questions or would like additional information, please contact Lisa Rao at CLOAKING  or 914-339-9300, ext. 2433.
Pictured here (L to R): Leigh Ridpath, instructor; Lisa Rao, director, OSilas Art Program; and Jackie Meier, instructor.
Photo courtesy OSilas Gallery & Art Studio
Editor's note: As a public service, MyhometownBronxville publishes articles from local institutions, officeholders, and individuals. MyhometownBronxville does not fact-check statements therein, and any opinions expressed do not necessarily reflect the thinking of its staff.