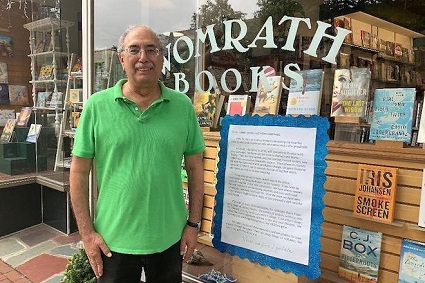 Sep. 11, 2019:  To our friends, patrons, and fellow merchants:
After 35 years of owning Womrath Bookshop, the time has come to retire and experience new adventures and a new grandchild.
Womrath, established in 1938, will continue to flourish with your patronage. We have sold the store to Barbara and Morin Bishop. They are very excited and are looking forward to their new venture and maintaining Womrath's legacy. Throughout its history, the store has survived WWII, an address change, and the great financial upheaval of 2008-09, not to mention the rise of big-box stores and chains and online shopping.
We are very proud to have owned one of the oldest continuously working bookstores in the country. It has been an honor serving the Bronxville community. We have always known that our customers are the nicest, smartest, and most well-read people any merchant could ask for. Over the years we have been very fortunate to get to know many of you personally and consider you friends.
There are so many fond memories:  the midnight Harry Potter party, years of finding Waldo, the variety of authors, working with the libraries, schools, Sarah Lawrence College, and Concordia College, and all the book suggestions offered to you and your children. We have enjoyed watching them grow as our children grew.

We thank you for all these memories and are grateful for your support through the years. There are many things we will miss, but mostly we will miss all of you.

Wanda and Gene Sgarlata
Pictured here:  Gene Sgarlata.
Photo by A. Warner
Editor's note: As a public service, MyhometownBronxville publishes articles from local institutions, officeholders, and individuals. MyhometownBronxville does not fact-check statements therein, and any opinions expressed do not necessarily reflect the thinking of its staff.