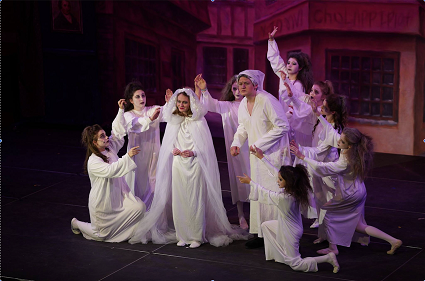 By Kathleen Suss, Executive Director, Concordia Conservatory
Sep. 11, 2019:  Concordia Conservatory is seeking performers and backstage production staff for its 20th annual holiday community musical. This year's production, The Spirit Society, is truly special in that the music was composed by Conservatory alumnus J.P. Redmond '17, currently a junior at The Juilliard School. Lyrics are by Greg Suss.
The Conservatory's annual tuition-free musical is both a beloved community institution and an effective theater arts outreach program, supported by generous donors who since 1999 have given over $500,000. In its 20-year history, the musical has seen over 1,500 performers and crew entertain over 18,000 enthusiastic audience members.
Community performers ages 8 to 22 are invited to audition on Friday, September 27, from 3:00 to 6:00 pm and Saturday, September 28, from 9:00 am to noon in Room 101 of Stein Hall at Concordia College New York; no appointment is required. Auditioners are asked to sing a solo song of their choice that best demonstrates their vocal ability and are required to bring their own sheet music. An accompanist will be provided. Students interested in being on the backstage production staff are invited to come in for an interview on these dates as well. Backstage staff is involved in stage management, props, lighting, and hair and makeup for the production. Performances will be held on December 7 and 8.
The production team is Greg Suss (stage director), Jon Klibonoff (music director), and Ana Dimas (choreographer). Rehearsals for The Spirit Society will be held on Tuesday afternoons from 4:00 to 6:00 pm and Saturday mornings from 9:00 to 11:30 am beginning October 8. During the week of December 2, rehearsals will be held for the entire cast Monday through Friday from 4:00 to 6:30 pm.
In The Spirit Society, St. Barnabas is about to take over St. Nicholas's job as the embodiment of Christmas and other holidays as well. St. Nicholas (Santa) enlists the help of all the holiday spirits, including Cupid, the Easter Bunny, and the Great Pumpkin to form The Spirit Society. Together, they will shed light on the importance of love, faith, family, and giving.
For more information about auditions, please call 914-395-4507.
Photo courtesy Concordia Conservatory
Editor's note: As a public service, MyhometownBronxville publishes articles from local institutions, officeholders, and individuals. MyhometownBronxville does not fact-check statements therein, and any opinions expressed do not necessarily reflect the thinking of its staff.